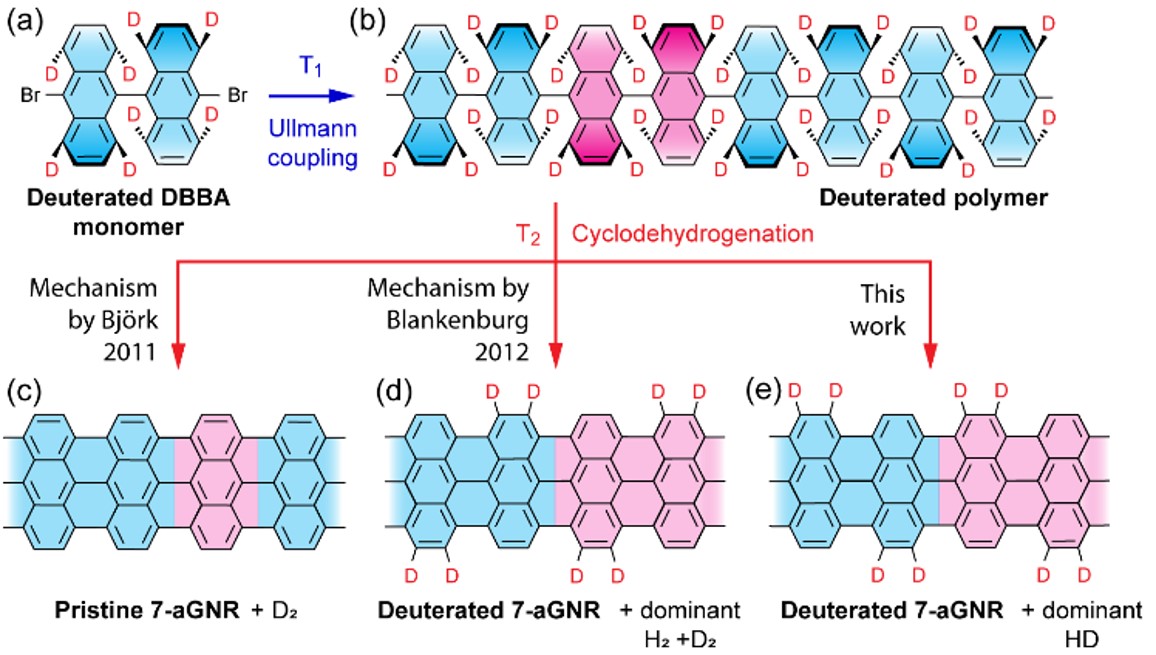 Scientific Achievement
Selective deuterations were exploited to synthesize graphene nanoribbons (GNRs) on Au(111) surface with a specific H/D pattern on the edges, allowing for determination of the exact pathway of the cyclodehydrogenation reaction.
Significance and Impact
This work clarifies the on-surface cyclodehydrogenation process within the framework of pericyclic reactions to pave a way for realizing p-extended graphitic scaffolds with designed structures having desirable functions.
Research

Details
–
Atomically precise GNRs were synthesized on Au(111) surface using selectively deuterated molecular precursors.
–
Specific H/D patterns on GNRs were characterized with scanning tunneling microscopy, Raman spectroscopy, and DFT calculations.
–
Reaction pathways determined by in situ mass spectroscopy and CI-NEB calculations of energy profiles.
C. Ma, Z. Xiao, P. V.
Bonnesen
, L. Liang, A. A.
Puretzky
, J. Huang, M.
Kolmer
, B. G. Sumpter, W. Lu, K. Hong, J.
Bernholc
, A.-P. Li
. Chemical Science,
12
15637 (2021). DOI: 10.1039/D1SC04908A