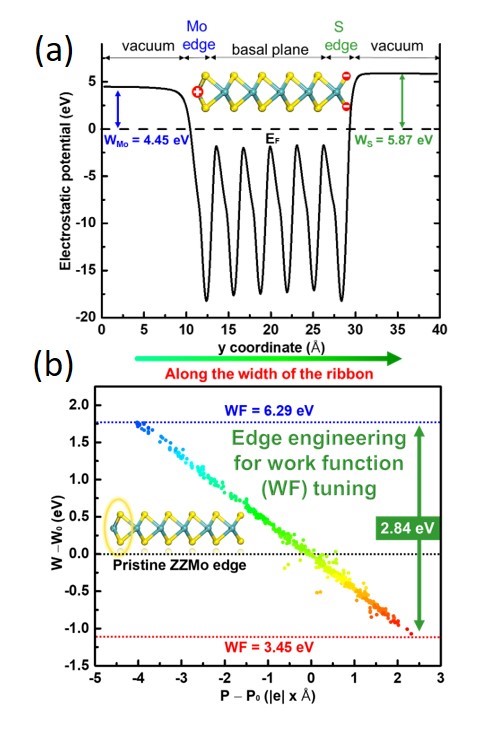 Scientific Achievement
We provide proof of anisotropy in the work function of 2D materials using theory and ab initio calculations. A large tunability of the work function by ~3eV is demonstrated with a linear correlation between a work function change and a change in the dipole moment in the 2D limit.
Significance and Impact
Our study provides a complete understanding of the origin of the work function in 2D nanomaterials, thereby providing a rational approach to design 2D edges for various electronic and catalytic applications.
Research

Details
- 
Theoretical proof, rigorously tested by
ab initio
calculations, provided for over 600+ edges of a linear relationship between work function and in-plane edge dipole moment in 2D materials.
- 
Machine learning-based non-linear dimensional reduction techniques provide novel insights into how edge-structural motifs affect the dipole moment and hence the work-function.
Guoxiang Hu, Victor Fung, Jingsong Huang, and P. Ganesh, "Work Function Engineering of 2D Materials:  The Role of Polar edge Reconstructions," 
J. Phys. Chem. Lett.
12
, 2320 (2021).  
DOI: 10.1021/acs.jpclett.1c00278