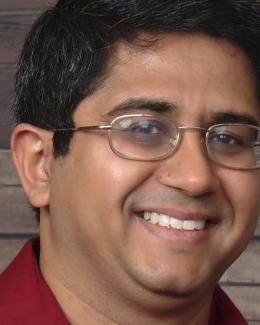 Panchapakesan Ganesh
Group Leader, Nanomaterials Theory Institute, Center for Nanophase Materials Sciences
Bio
Dr. Panchapakesan Ganesh is a Senior Research and Development Staff Member at Oak Ridge National Laboratory. His research interests lie at the intersection of theoretical condensed matter physics, theoretical quantum chemistry, computational material science, high-performance computing and machine-learning. Broadly, his research involves developing methods to gain fundamental insights into the role of defects and disorder in energy materials, electronic materials, correlated- and topological quantum-materials as well as designing new improved materials using these insights for various applications, combining high-performance computing with machine-learning & artificial intelligence based methods. A complete list of publications is available in his Google Scholar page. 
He received his Ph. D in Physics from the Physics Department at Carnegie Mellon University in 2007. Prior to joining ORNL in 2010, he was a Carnegie postdoctoral fellow in the Geophysical Laboratory at the Carnegie Institution for Science. Before coming to the US, Ganesh earned his Bachelors in Physics with Honors from the prestigious Presidency University in Kolkata, India, and a MSc degree from the Department of Physics at Pune University, India, after gaining admissions via highly competitive national selection examinations.  
Currently he leads the Nanomaterials Theory Institute at the Center for Nanophase Materials Sciences Division at Oak Ridge National Laboratory.  The group focuses on developing new theoretical capabilities to enable fundamental understanding of nanoscale phenomena to enable breakthroughs in new materials discovery for next generation energy and computing technologies. Ganesh is also a member of CPSFM, a DOE Computational Materials Science Center to develop Quantum Monte Carlo based highly accurate electronic-structure methods for predictive simulation of functional materials. 
Awards
2020 Division award for Distinguished Scientific Paper
2020 Oak Ridge National Laboratory Significant Event Award
2017 Oak Ridge National Laboratory Significant Event Award
2016 Oak Ridge National Laboratory Significant Event Award
2013 Oak Ridge National Laboratory Significant Event Award
2006 The Joseph A. Kane Fellowship from the Physics Department, Carnegie Mellon University, Pittsburgh, USA
2005 George E. and Majorie S. Pake Fellowship from the Mellon College of Science, Carnegie Mellon University, Pittsburgh, USA
2000 Book award in physics, Department of Physics, University of Pune, Pune, India
Trademarks and Patents
"New Class of Pure Piezoelectric Materials", R. E. Cohen and P. Ganesh (2011)