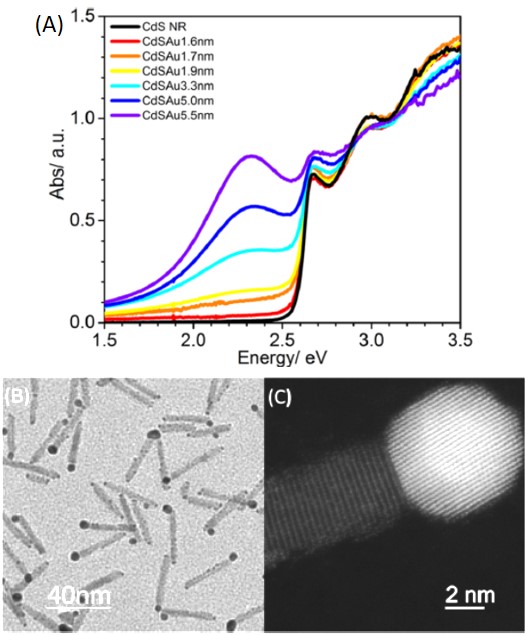 Scientific Achievement
The efficiency of plasmon-induced hot electron transfer was controlled through systematic variation of the Au tip diameter in CdS-nanorod (NR)/Au nanoparticle (NP) heterostructures.
Significance and Impact
Findings provide a path forward for the rational design of efficient plasmonic hot carrier-based devices to enable a range of important chemical transformations.
Research Details
– 
Time-resolved visible-pump/IR-probe spectroscopy showed the quantum efficiency increased from ∼1% to ∼18% as the size of the Au nanoparticle (NP) decreased from 5.5 ± 1.1 to 1.6 ± 0.5 nm.
– Aberration-corrected scanning transmission electron microscopy (STEM) revealed a clean and abrupt interface between the CdS NR and Au NP.
Y. Liu, Q. Chen, D. Cullen, Z. Xie, and T. Lian, "Efficient Hot Electron Transfer from Small Au Nanoparticles," Nano Letters 20, 4322 (2020). DOI:  10.1021/acs.nanolett.0c01050