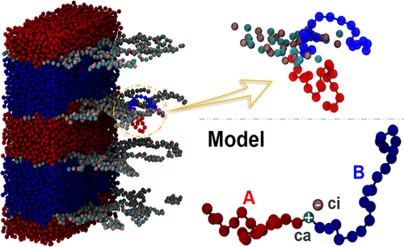 Scientific Achievement
Demonstrated how the location of an ionic junction can modulate the charge distribution and chain conformation in the ordered domains of AB diblock copolymers.
Significance and Impact
The delicate control over microphase domain features modulated by ionic junctions provides a new dimension for interfacial engineering of functional polymeric materials.
Research Details
– 
Large-scale molecular dynamics simulations were  used to explore the effects of ionic junctions and their location
. 
– 
Results highlight the
dominant roles of entropic and binding effects of counterions under weak and strong ionic correlations, respectivel
y
.
W. Li, J.-M. Carrillo, B. G. Sumpter, and R. Kumar, "Modulating Microphase Separation of Lamellae-Forming Diblock Copolymers via Ionic Junctions," ACS Macro Lett. 9, 1667-1673 (2020). DOI: 10.1021/acsmacrolett.0c00592