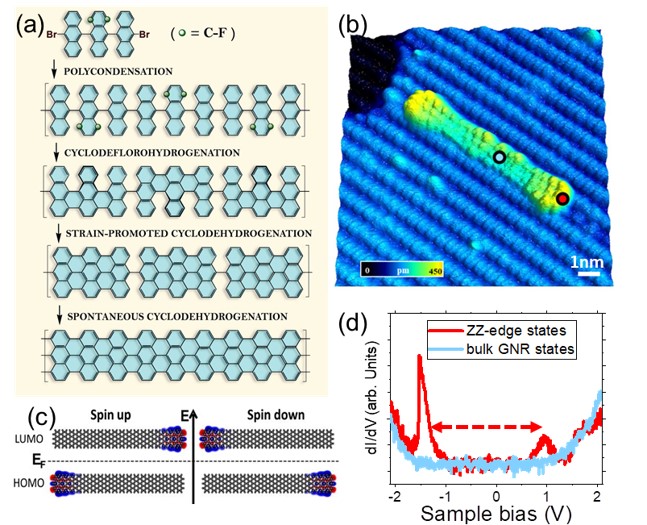 Scientific Achievement
Decoupled, atomically precise graphene nanoribbons (GNRs) are obtained by an on-surface synthesis approach on a model metal oxide and exhibit spin-polarized magnetic states.
Significance and Impact
This work demonstrates a path toward forming custom-designed carbon nanostructures by direct on-surface synthesis methods on technologically relevant semiconducting or insulating surfaces.
Research Details
– 
Highly selective and sequential activation of C-Br, C-F, and C-H bonds are thermally triggered on the oxide surface with rationally designed molecular precursors during multi-step synthesis of GNRs.
– 
Scanning tunneling microscopy (STM) used to monitor the formation of intermediates and GNRs
in situ
, revealing electronic and magnetic states and confirming weak interactions between GNRs and rutile TiO
2
.
M. Kolmer, A. K. Steiner, I. Izydorczyk, W. Ko, M. Engelund, M. Szymonski, A.-P. Li, and K. Amsharov, "Rational Synthesis of Atomically Precise Graphene Nanoribbons Directly on Metal Oxide Surfaces," Science (2020). DOI: 10.1126/science.abb8880