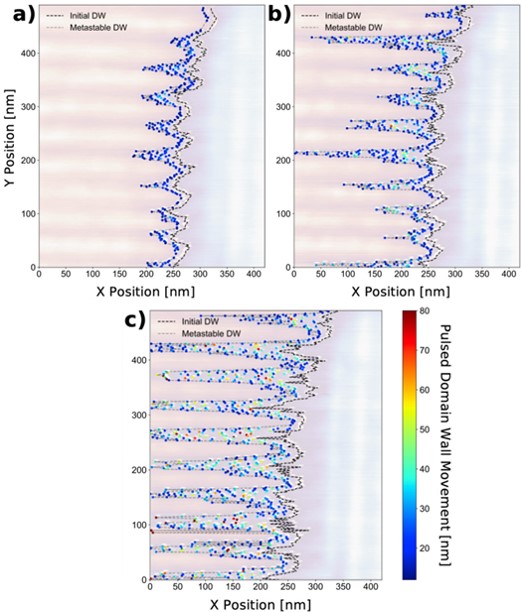 Scientific Achievement
An automated scanning probe microscopy (SPM) experimental platform, FerroBot, has been utilized to gain fundamental insights into ferroelectric switching behavior.
Significance and Impact
This automated approach can be employed to access metastable phases with dynamic properties, enabling characterization of time dependent functionalities. 
Research

Details
– 
The dynamics of domain walls between
superdomain
bundles in the polydomain ferroelectric Pb
0.6
Sr
0.4
TiO
3
have been quantified.
– 
Domain wall bending is separated from irreversible domain reconfigurations using automated SPM.
– 
This technique can be broadly applied to other complex ferroelectric systems to quantify dynamic properties.
K. P. Kelley, Y. Ren, A. Dasgupta, P. Kavle, S. Jesse, R. K. Vasudevan, Y. Cao, L. W. Martin, and S. V. Kalinin, "Probing Metastable Domain Dynamics via Automated Experimentation in Piezoresponse Force Microscopy," ACS Nano, Accepted (2021).  doi.org/10.1021/acsnano.1c05455