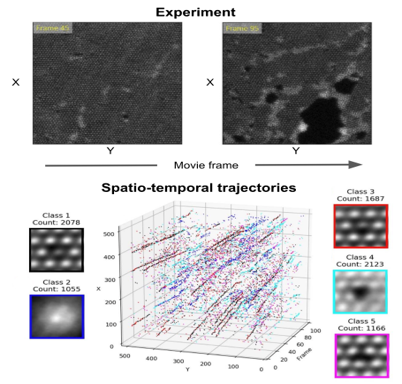 Scientific Achievement
Determined the kinetics of solid-state reactions by dynamic observations one defect at a time.
Significance and Impact
This work enables understanding solid state reactions in 2D materials, a key step towards developing  applications in electronic and quantum materials.
Research

Details
– 
Dynamic scanning transmission electron microscopy (STEM) visualizes the phase transformation process in a layered material at the atomic level.
– 
A robust machine learning method was developed to automatically convert STEM movies into atomic positions without any limitation on data volume.
– 
The unsupervised method allows  building a  library of point defects and further to quantitatively describe their dynamics and kinetics of transformation processes.
A.
Maksov
, O. Dyck, K. Wang, K. Xiao, D. B.
Geohegan
, B. G. Sumpter, R. K. Vasudevan, S. Jesse, S.V . Kalinin, and M. Ziatdinov, "Deep learning analysis of defect and phase evolution during electron beam-induced transformations in WS2," 
NPJ Comp. Mat.
(2019).  DOI:
10.1038/s41524-019-0152-9