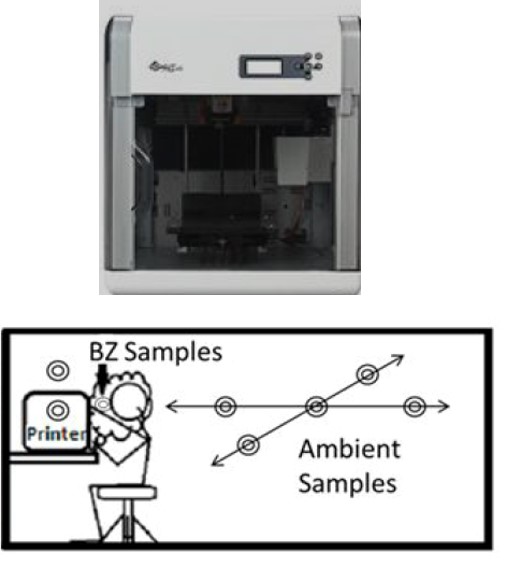 Scientific Achievement
A model was developed that estimates the potential range of airborne particulate concentrations in and around various industrial-size 3D printers.
Significance and Impact
This application provides guidance to field industrial hygienists to determine particle emissions associated with the rapidly emerging field of additive manufacturing and thereby better describe the potential health and safety risk and lead to improved mitigation.
Research Details
– 
A Da Vinci XYZ model 1.0 3D desktop printer (DTP) was used in poorly ventilated room (~1.8 air changes per hour) in order to obtain emission estimates and air concentration maps for model inputs.
T.
Zontek
, S. Hollenbeck, B. Ogle, J. T. Jankovic, "Modeling Particle Emissions from Three-Dimensional Printing with Acrylonitrile-Butadiene-Styrene Polymer Filament,"  
Environ. Sci. Technol. 53, 9656 (2019). 
(2019).  
DOI: 10.1021/acs.est.9b02818