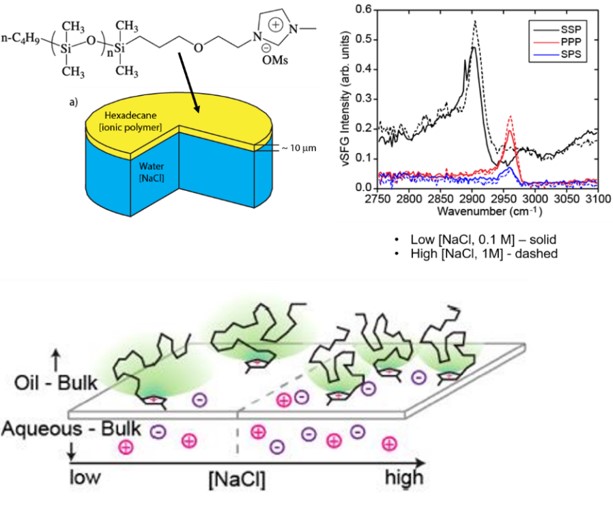 Scientific Achievement
Hydrogen bonding and electrostatic interactions in the aqueous phase control the resulting conformations of the polymers in the organic phase.
Significance and Impact
Learning the design rules for assembly of bio-inspired polymeric membranes will enable new classes of functional interfaces.
Research

Details
– 
Self-assembly of an ionic amphiphilic polymer monolayer at a liquid/liquid interface was monitored using vibrational sum frequency generation spectroscopy.
– 
Over time, polymers already adsorbed at the interface changed conformation in the organic phase to allow more room for additional molecules to adsorb there.
A. U. Chowdhury, G .J. Taylor, V.
Bocharova
, R. L.
Sacci
, Y. Luo, W. T. McClintic, Y.-Z. Ma, S. A.
Sarles
, K. Hong, C. P. Collier, and B. Doughty, "Insight into the Mechanisms Driving the Self-Assembly of Functional Interfaces: Moving from Lipids to Charged Amphiphilic Oligomers," 
J. Am Chem. Soc.
,
142, 290 (2020). DOI: 10.1021/jacs.9b10536