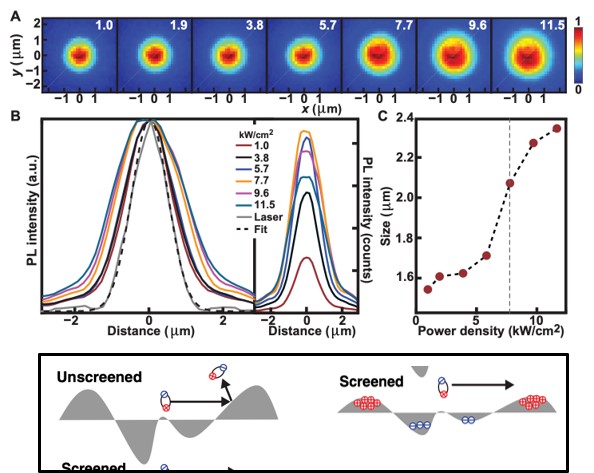 Scientific Achievement
Photogenerated charges, trapped at defects in 2D MoS2 monolayer crystals, were shown to mediate the scattering of excitons for a giant enhancement of exciton diffusivity from 1.5 to 22.5 cm2/s.
Significance and Impact
Understanding how to improve and control exciton transport in 2D semiconductors opens new avenues for the development of high-performance excitonic  devices, energy conversion, and photodetectors. 
Research

Details
The spatial expansion and intensity of photoluminescence from suspended ML MoS2 crystals were measured at 298K vs. cw 532 nm-laser power, revealing an exciton Mott transition due to electron hole plasma formation. 
Ultrafast pump-probe differential reflectance and spectroscopy measurements revealed that exciton dynamics were preserved, despite the higher diffusivity.
Y. Yu, Y. Yu, G. Li, A. A. Puretzky, D. B. Geohegan, and L. Cao, "Giant Enhancement of Exciton Diffusivity in Two-Dimensional Semiconductors," Sci. Adv. 6 (51) eabb4823 (2020).   DOI: 10.1126/sciadv.abb4823