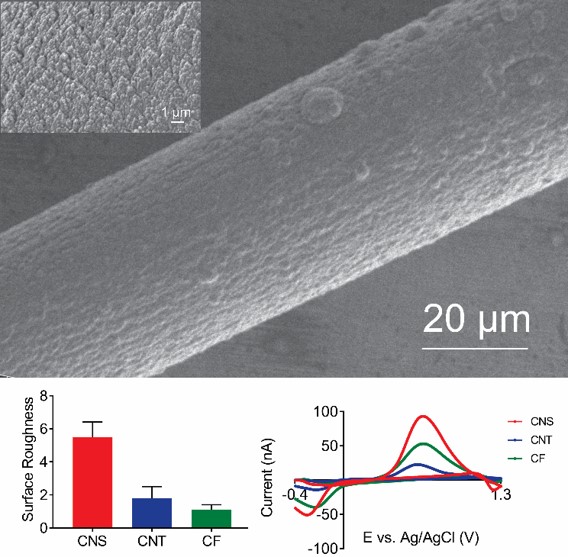 Scientific Achievement
Carbon nanospikes (CNSs) have a short, densely packed, defect-filled surface that exhibits remarkable electrochemical properties compared with carbon nanotubes (CNTs) and carbon fibers (CFs).
Significance and Impact
CNSs can be widely used as a material for neurotransmitter sensing.
Research Details
– 
CNSs and CNTs were successfully grown on metal wires using chemical vapor deposition and fabricated into microelectrodes.
– 
Electrochemical properties of CNS, CNT, and CF microelectrodes were evaluated.
– 
CNSs exhibit greater surface roughness and numerous defect sites that improve current density, electron transfer kinetics, and adsorption.
Q. Cao, D. K. Hensley, N. V.
Lavrik
,
and
B. J.
Venton
, "Carbon nanospikes have better electrochemical properties than carbon nanotubes due to greater surface roughness and defect sites,"  
Carbon
155
, 250-257 (2019).  DOI: 10.1016/j.carbon.2019.08.064