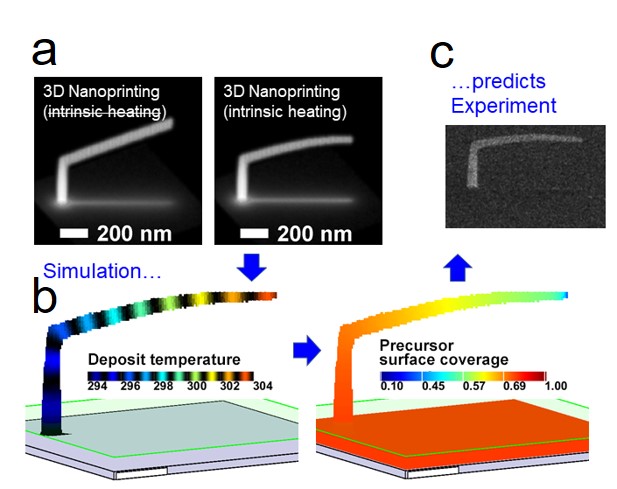 Scientific Achievement
Electron beam heating was found to cause a common structural deformation observed during focused electron beam deposition.
Significance and Impact
Structurally accurate deposits are now possible with knowledge of the distortion mechanism
Research

Details
– 
3D nanostructures are deposited by focused electron beam induced deposition.
– 
Complementary nanostructures were 'virtually' grown using a 3D simulation which includes the effect of electron beam heating.
– 
Simulations revealed that heating effects during deposition dynamically reduces the coverage of precursor molecules on the surface of the deposit causing a cumulative geometric distortion.
E.
Mutunga
, R. Winkler, J.
Sattelkow
, P. D. Rack, H. Plank, and J. D. Fowlkes, "Impact of Electron-Beam heating during 3D Nanoprinting," 
ACS Nano
(2019).  DOI: 10.1021/acsnano.8b09341