All News
ORNL's Communications team works with news media seeking information about the laboratory. Media may use the resources listed below or send questions to news@ornl.gov.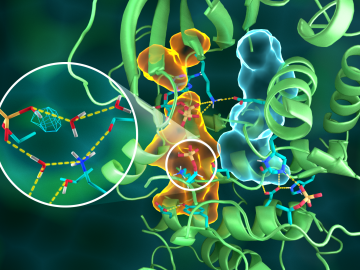 OAK RIDGE, Tenn., March 20, 2019—Direct observations of the structure and catalytic mechanism of a prototypical kinase enzyme—protein kinase A or PKA—will provide researchers and drug developers with significantly enhanced abilities to understand and treat fatal diseases and neurological disorders such as cancer, diabetes, and cystic fibrosis.
As the rise of antibiotic-resistant bacteria known as superbugs threatens public health, Oak Ridge National Laboratory's Shuo Qian and Veerendra Sharma from the Bhaba Atomic Research Centre in India are using neutron scattering to study how an antibacterial peptide interacts with and fights harmful bacteria.
Researchers used neutron scattering at Oak Ridge National Laboratory's Spallation Neutron Source to investigate bizarre magnetic behavior, believed to be a possible quantum spin liquid rarely found in a three-dimensional material. QSLs are exotic states of matter where magnetism continues to fluctuate at low temperatures instead of "freezing" into aligned north and south poles as with traditional magnets.