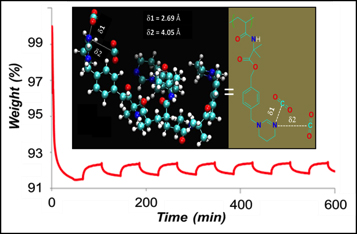 Achievement: Designed a polymer for selective and reversible carbon dioxide (CO2) capture.
Significance and Impact: The new polymer that is based on amidines can provide a more efficient alternative to conventional polyethyleneimine (PEI) based solid-sorbents for CO2 capture and separation.
Research Details:
An efficient post-polymer modification to enable  substantially greater CO2 selectivity.
Calculations guided the key understanding of how two binding sites for CO2 lead to the experimentally observed temperature dependent CO2 release efficiencies.
Demonstrated a simple method to develop a new class of CO2-responsive polymer nanomaterials.
Sponsor/Facility: This research was conducted at the Center for Nanophase Materials Sciences, which is a DOE Office of Science User Facility. We also thank European Commission under 7 FP (Project No. PIRSES-GA-2010-269182) and CNMS user project (Proposal No. CNMS2014-033) for sponsoring Ivana Karpisova from Comenius University, Slovakia to contribute to this work.  BGS  acknowledges partial support from the Center for Understanding and Control of Acid Gas-Induced Evolution of Materials for Energy (UNCAGE-ME), an Energy Frontier Research Center funded by U.S. Department of Energy, Office of Science, Basic Energy Sciences. S.M.K acknowledges support from the National Science Foundation (Award # 1133320).
PI and affiliation: Balaka Barkakaty from CNMS – Oak Ridge National Laboratory
Overview:
Researchers demonstrated a simple and facile method to develop a new class of CO2-responsive polymer-based solid sorbents. This novel amidine-based polymer in a powdered form showed higher CO2 fixing efficiencies than the "gold standard" polyethyleneimine (PEI) based solid. Thermogravimetric (TGA) analysis demonstrated the ability of this polymer to selectively and efficiently capture CO2 even with a mixed gas system (20% CO2, 80% N2) similar to flue gas. The ease of material synthesis and high CO2 fixing efficiency opens up additional opportunities for developing new and more efficient CO2-responsive solid sorbents. Furthermore the results advance the fundamental understanding for the temperature dependence of CO2-releasing ability of the material with the help of theoretical modeling and DFT calculations. The facile ability of the polymer to reversibly capture and release CO2 under ambient conditions also opens up interesting opportunities to study the in-situ optoelectronic, refractive, electrical and CO2 transport properties of these systems as functions of temperature, pressure, CO2 concentration and humidity.