Geological Society of America Fellow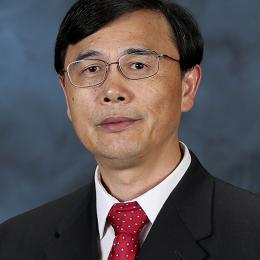 Baohua Gu
OAK RIDGE, Tenn., June 7, 2016 – Baohua Gu, a distinguished senior scientist in the Environmental Sciences Division of the Department of Energy's Oak Ridge National Laboratory, has been elected a fellow of the Geological Society of America (GSA).Fellows of GSA are selected in recognition of distinguished contributions to the geosciences. Gu was cited for his "seminal work on elucidating key molecular-scale mechanisms that govern biogeochemical cycling of contaminants, trace metals, and natural organic matter [that] have made significant contributions to our understanding of soil organic and metal cycling in terrestrial ecosystems and contaminated sites."
GSA provides access to elements that are essential to the professional growth of earth scientists at all levels of expertise and from all sectors: academic, government, business and industry. The organization has more than 26,000 individuals in 115 countries.
Gu holds a joint appointment as a professor at the University of Tennessee, Knoxville. He received his doctorate from the University of California, Berkeley, in 1991 and is an author of more than 250 journal publications, books or book chapters. His major research areas include biogeochemical transformation and transport of environmental pollutants (e.g., mercury, uranium, and emerging contaminants), soil carbon–mineral interfacial interactions, spectroscopic studies and environmental applications.
UT-Battelle manages ORNL for the Department of Energy's Office of Science. The Office of Science is the single largest supporter of basic research in the physical sciences in the United States, and is working to address some of the most pressing challenges of our time. For more information, please visit http://science.energy.gov/.