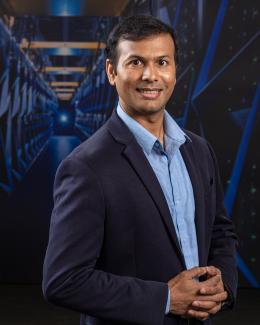 Contact Information
Gautam Malviya Thakur
Group Leader, Location Intelligence
Bio
Dr. Gautam Thakur (Senior Member, IEEE) is a Senior Staff Scientist at Oak Ridge National Laboratory (ORNL), TN, USA for the past six years. He works in the Geoinformatics Engineering and Scalable Computing group of the Geospatial Science and Human Security Division at ORNL. His research focuses on advancing open-source geospatial data science and scalable computing, governance and data management practices, geospatial advancement, and artificial intelligence. He graduated from the Herbert Wertheim College of Engineering at the University of Florida (2012) with a Ph.D. in computer engineering and a dissertation on mobility modeling in large-scale networks. He worked at Deutsche Telekom Research Laboratories, Berlin on transportation system modeling and understanding network anatomy of major cities in the world. He worked at Disney Research Laboratory, Zürich on activity and mobility modeling of guests visiting the Disney theme parks. His research has applications in geo-spatial intelligence, sustainable urban systems, disaster management, critical infrastructure management, and transportation system analysis.
Awards
Senior Member, Institute of Electrical and Electronics Engineers (IEEE), 2019
Technology transfer to iEdapts Inc., 2019
Copyright award, ORNL, 2018
Significant Event Award, Oak Ridge National Laboratory, 2017
IEEE Communication Society InternetTC Best Paper award, 2015
ACM SIGSPATIAL top three best vision paper, 2015
ACM SigSpatial Best paper award, IWCTS 2013
ORNL Director awarded certificate for exceptional service to ORNL postdoctoral association, 2014
Recipient of prestigious ERCIM Alain Bensoussan Fellowship-The European Research Consortium for Informatics and Mathematics, Nov' 2012.