Last month, Deputy Secretary of Defense Dr. Kathleen Hicks and Deputy Secretary of Energy David Turk visited Oak Ridge National Laboratory for facility tours and discussions with leadership and researchers.
For ORNL's national security science programs, the visit represented a unique opportunity to highlight the collaborative ways in which DOE's basic and applied science investments are applied directly to real-world DoD missions.
"Having these two deputy secretaries here at the same time allowed us to show how what we do in basic and applied science for the Department of Energy then benefits the Department of Defense," said Craig Blue, ORNL's Defense Manufacturing Programs director.
That relationship is particularly apparent at DOE's Manufacturing Demonstration Facility at ORNL's Hardin Valley Campus, where the deputy secretaries learned about ongoing research programs and discussed ways to leverage DOE capabilities to address national needs.
"To solve some of our emerging national security challenges, we really need an innovative approach," said Moe Khaleel, associate laboratory director for National Security Sciences. "And the MDF has really served as a very innovative model to give others rapid access to the vast capabilities that we have at Oak Ridge and in the Department of Energy."
The August visit showcased ORNL's leadership in advanced manufacturing, with a particular focus on defense applications. Corporate Fellow Lonnie Love discussed large-scale additive manufacturing for production of tooling and parts, along with potential applications in forgings and castings.
Carbon Fiber Technology Facility Director Merlin Theodore briefed the deputy secretaries on the facility's unique capabilities and ORNL's composites work. James Klett, group leader for ORNL's Materials for Extreme Environments, described the lab's strengths in carbon manufacturing and the innovative carbon-carbon technology MDF researchers have developed that could have significant applications for the military and U.S. industry.
For Blue, the discussions and their focus on both energy and defense symbolized the thread of science, innovation and national security that traces all the way back to the laboratory's beginnings.
"All of this work is related to our historical strengths. It's kind of in our DNA," Blue said. "Carbon was originally for the Graphite Reactor. Carbon fiber was originally for the centrifuge program. Why are we doing carbon-carbon? Because we've been doing carbon for 75 years."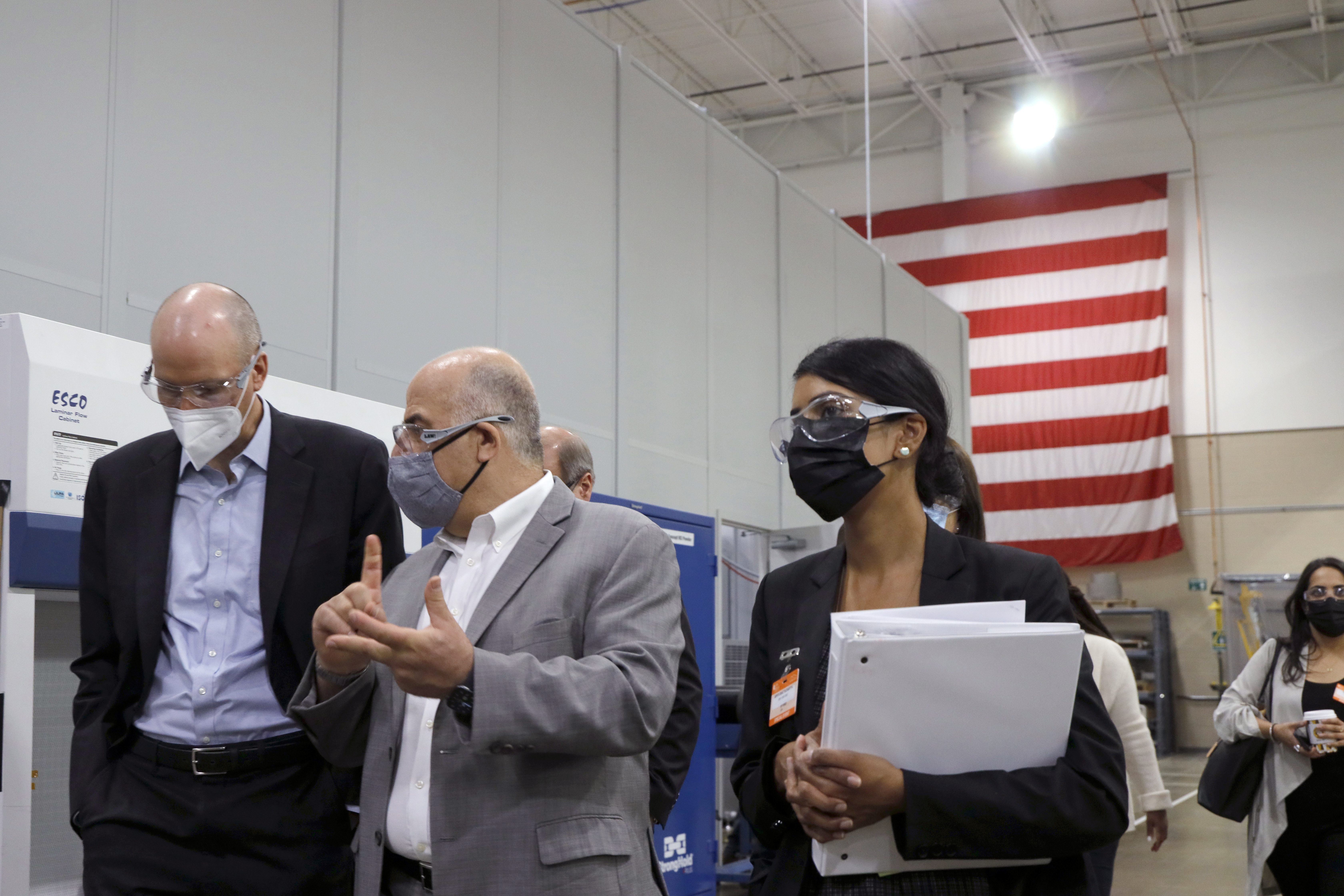 In addition to working with DoD on materials and components with direct military applications, ORNL is working to revitalize the U.S. machine tool industry writ large, which has its own implications for national security and economic competitiveness.
"A healthy manufacturing base contributes to our national security. In that sense, manufacturing is, by definition, national security," Blue said. "But right now, we're dependent on foreign nations for many of our machine tools. So shoring up machine tool production in the U.S. is really key."
ORNL hosts a program aptly called America's Cutting Edge, or ACE, an initiative with the Institute for Advanced Composites Manufacturing Innovation, or IACMI, and the University of Tennessee with funding from DoD's Office of Industrial Base Analysis and Sustainment.
"Since March 2020, DoD has invested $42 million in ACE, a national machine tools innovation hub seeking to restore the prominence of the U.S. machine tool sector, as well as the training program run by … IACMI," Eric Pahon, public affairs advisor to Deputy Secretary Hicks, said in a statement.
To date, ACE has provided no-cost online training to more than 2,600 people from all 50 states.
In total, ORNL's defense manufacturing programs have grown roughly 30 percent year over year since 2019. While that includes additive manufacturing and machining, researchers are also tapping ORNL's deep science capabilities to address and secure the digital backbone of modern manufacturing; integrate modeling, simulation, and data analytics; and advance built-in metrology and qualification.
"We have evolved a model that's quite successful in getting broad diversity in our portfolio," Khaleel said. "The key to the MDF model is the public/private partnership that enables true access by industry and university partners, with people working side by side."
That last part — what Blue calls "place-based innovation" — is what sets MDF apart and what will ensure the U.S. remains on the forefront of technology development.
"When you get people with diverse backgrounds coming together, and with this melting pot of capability, it really drives innovation," Blue said. "As MDF shows, the Department of Energy, and particularly Oak Ridge, is a treasure trove in terms of opportunity to really move forward in addressing our country's critical needs."
UT-Battelle manages ORNL for the Department of Energy's Office of Science, the single largest supporter of basic research in the physical sciences in the United States. The Office of Science is working to address some of the most pressing challenges of our time. For more information, please visit energy.gov/science.