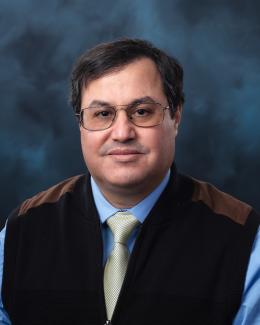 Contact Information
Ilias Belharouak
Corporate Fellow
Bio
Dr. Ilias Belharouak is a Corporate Fellow and Head of the Electrification Section at Oak Ridge National Laboratory (ORNL), Tennessee. He also serves as a Professor of the Bredesen Center for Interdisciplinary Research and Graduate Education at the University of Tennessee Knoxville. At ORNL, Dr. Belharouak oversees multidisciplinary R&D programs sponsored by multiple government agencies and industries on works relating to battery energy storage and advanced manufacturing. Dr. Belharouak serves as an advisory board member for several US Universities and government agencies. 
Before joining ORNL in 2017, he was the Research Director and Founding Chief Scientist of the Electrochemical Energy Storage Center at Qatar Foundation. At the same time, Dr. Belharouak served as a Professor at the Hamad Bin Khalifa University (HBKU) for two years. In his role in Qatar, he was entrusted with the execution of $15M annually to position the State of Qatar in the field of energy and environment.
Before joining Qatar Foundation in 2013, he was a Material Scientist at Argonne National Laboratory (ANL), Illinois, between 2001-13. At Argonne, he was the principal investigator of several battery materials-related technologies for high-energy density and high-power density Li-ion batteries, sodium-ion batteries, solid-state batteries, and lithium-sulfur batteries.
Dr. Belharouak has extensive experience working with multiple government agencies and industries in applying battery research for projects ranging from medical to electric vehicles, and renewable energy storage applications. His research interests deal with high-power and high-energy lithium-ion batteries and beyond lithium-ion battery technology; battery materials and molecular discovery and design; electrolytes and additives; engineering and scale-up of battery components and cells; multi-scale range characterization of battery components and interfaces; diagnostics, postmortem and probing of the aging phenomena in batteries.
Dr. Belharouak was recognized with several awards including 6 R&D 100 awards and four U.S. Federal Laboratory Consortium Awards. He published more than 180 peer-reviewed papers, 50 U.S. Patents, and Patent Applications, and 5 books. He is the Editor of Elsevier's Journal of Power Sources, holds an h-index of 69, and was as invited more than 66 times around the globe.
Dr. Belharouak received a Ph.D. degree (1999) and a Master's degree (1996) in Materials Science and Solid-State Chemistry from the Bordeaux Institute for Solid State Chemistry, French National Center for Scientific Research, Bordeaux 1 University, France.