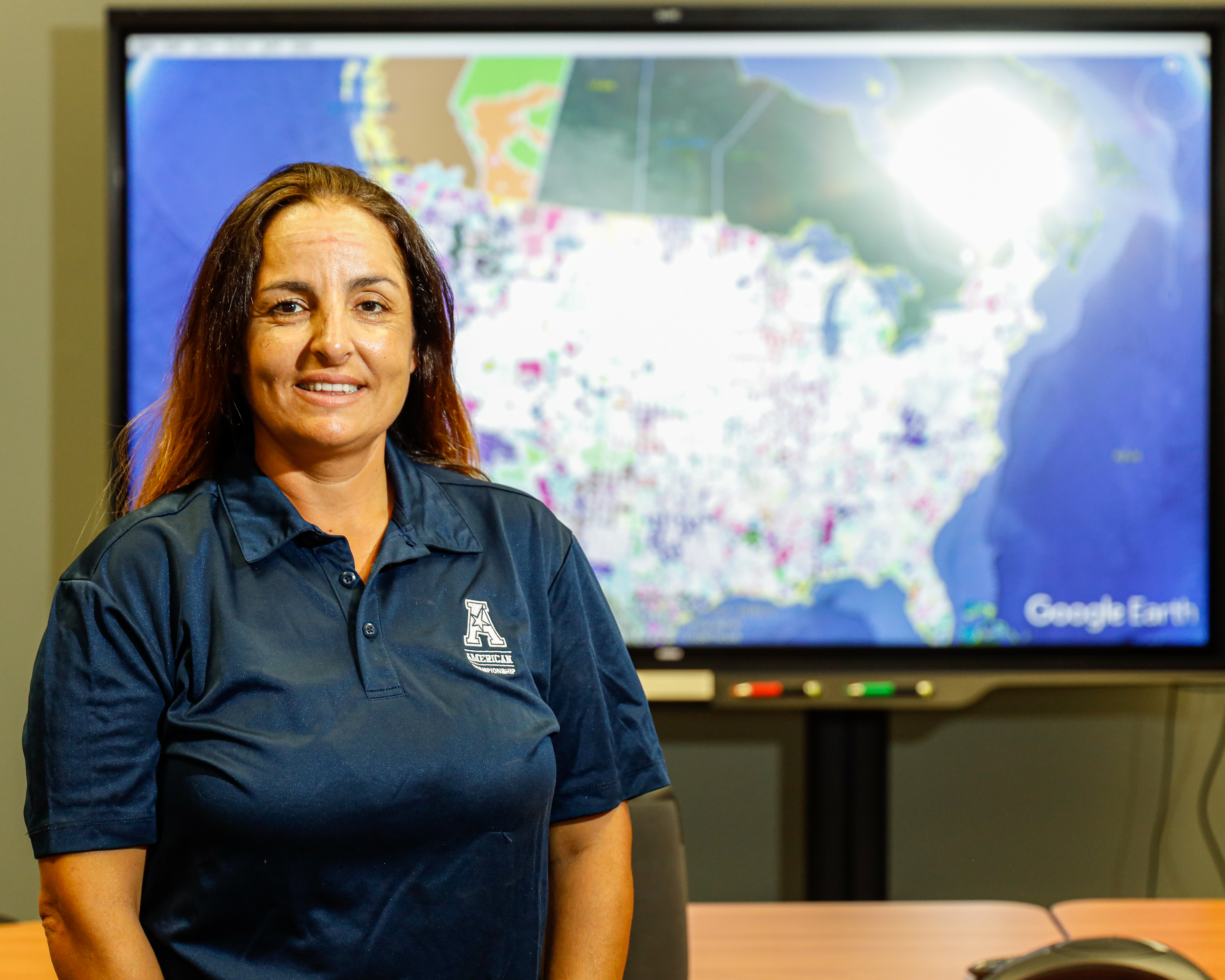 Aces at the lab and on the courts: Isabelle Snyder
Isabelle Snyder calls faults as she sees them, whether it's modeling operations for the nation's power grid or officiating at the US Open Tennis Championships.
As a power systems engineer at Oak Ridge National Laboratory, Snyder applies her modeling and simulation skills to the challenge of a resilient and secure grid network, including protecting it against abnormal power currents—known as faults—that could indicate damage to electrical equipment.
Her current work involves helping build the North American Energy Resilience Model, or NAERM, a project that will model the nation's grid infrastructure, including dependencies such as natural gas supply, to identify potential threats and mitigate them.
The work is similar to modeling tasks she took on in ORNL's efforts to help Puerto Rico rebuild its grid after Hurricane Maria in 2017. Along with colleagues, Snyder developed the Dynamic Protection-Planning Model for the Puerto Rico Electric Power Authority, which would allow operators to predict the behavior of the electrical system and prepare for events like severe weather.
Snyder has always had a fondness for solving difficult math problems, an interest that led her to focus on science subjects in school as she was growing up in Beirut, Lebanon. "I got a lot of enjoyment out of taking on math puzzles," Snyder said. "Math always felt a bit like a game."
She earned her bachelor's degree in power systems at the University of St. Joseph in Beirut. Snyder then moved to France to attend the Institut National Polytechnique de Grenoble, where she earned a PhD in electrical engineering.
Her thesis work at the time reflects her work today. She modeled and simulated the impact of large, industrial machines known as induction motors on the power grid, including the creation of a tool to solve power flow equations and predict voltage drops on the utility system.  
Following graduation, Snyder joined Schlumberger Electricity Metering, which was then acquired by Itron. Her work brought her to the United States and eventually to Knoxville, where she worked for power engineering firm EnerNex on wind farm designs. Two years later Snyder joined ORNL as an R&D staff member in the Power and Energy Systems Group.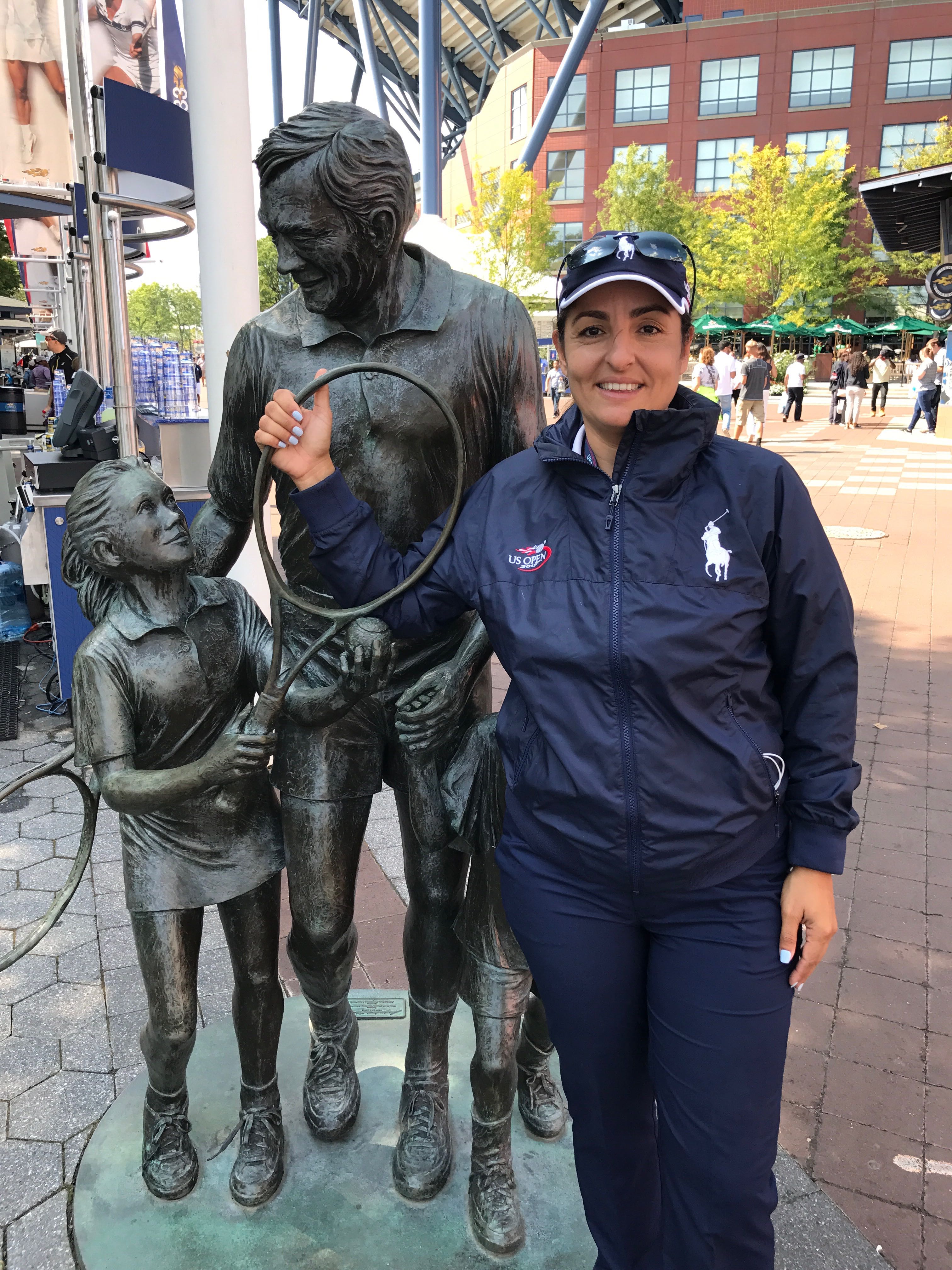 A good match: Snyder and tennis
Moving to the United States also gave Snyder an opportunity to pursue a sport that she'd grown to love just by watching it on television while growing up: tennis.
She began taking tennis lessons and eventually became involved in helping host tennis events. Along the way, Snyder took an officiating class and found she had a knack for it. She applied to work at the US Open in 2014, and was accepted.
Every year since, she has arranged her work schedule serve as a line umpire for the US Open, which includes calling faults—in tennis terms, when a ball is improperly served or lands out of bounds.
"It's been great working with officials and getting this extra exposure to a sport I love," Snyder said. "Since I've been officiating I can say I've made friends all over the world." She also officiates local matches for the women's tennis team at the University of Tennessee, Knoxville, and shepherds her three kids to their games.
"I'm very passionate about tennis whether it's officiating or volunteering, being a tennis parent or playing it myself," Snyder said.      
Back at the lab, Snyder is looking forward to a new direction in grid modernization in which monitoring and data analysis innovations lead to greater situational awareness of the grid state. "We're working on new tools that could make it easier to understand what's going on in the system at the moment. More real-time information rather than a post-processing approach. We want to try to get as close to real time as possible" so we can continue to make the grid more resilient, she noted.
"We have so much expertise in so many different disciplines here at ORNL, I feel that we could take on any challenge," including the modeling work necessary to test grid innovations before they're deployed, Snyder said.
ORNL is managed by UT-Battelle for the U.S. Department of Energy's Office of Science, the single largest supporter of basic research in the physical sciences in the United States. DOE's Office of Science is working to address some of the most pressing challenges of our time. For more information, please visit https://energy.gov/science.