Designed to help Tennessee manufacturers grow!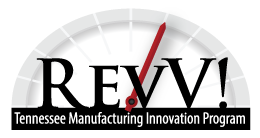 The State of Tennessee, in partnership with the University of Tennessee and Oak Ridge National Laboratory (ORNL) have created a new $2.5 million manufacturing innovation program called RevV
The purpose of this pilot program is to assist Tennessee manufacturers by providing access to the world-class researchers and facilities available at ORNL through an industry voucher program.  ORNL will work with manufacturers across the state to tackle their toughest challenges in product development and in process innovation to help ensure Tennessee manufacturers maintain a competitive advantage in the global marketplace.
Unique capabilities and expertise that can be engaged at ORNL include: 
Materials science and technology including advanced materials processing, characterization, and fabrication
Measurement, sensor and control systems
Computational science, data analytics, and modeling and simulation
Energy and environmental related technologies