Topic:
Nuclear Science and Technology
Dozens of prospective nuclear engineering graduate students visited the US Department of Energy's (DOE's) Oak Ridge National Laboratory (ORNL) in late February as part of an annual recruitment trip highlighting the lab's unique facilities and research capabilities.
The daylong tour took place in conjunction with the recruitment weekend for the University of Tennessee's (UT's) Department of Nuclear Engineering. ORNL works closely with the department to identify potential students to pursue graduate degrees at the university while simultaneously learning the ropes of working at a national lab.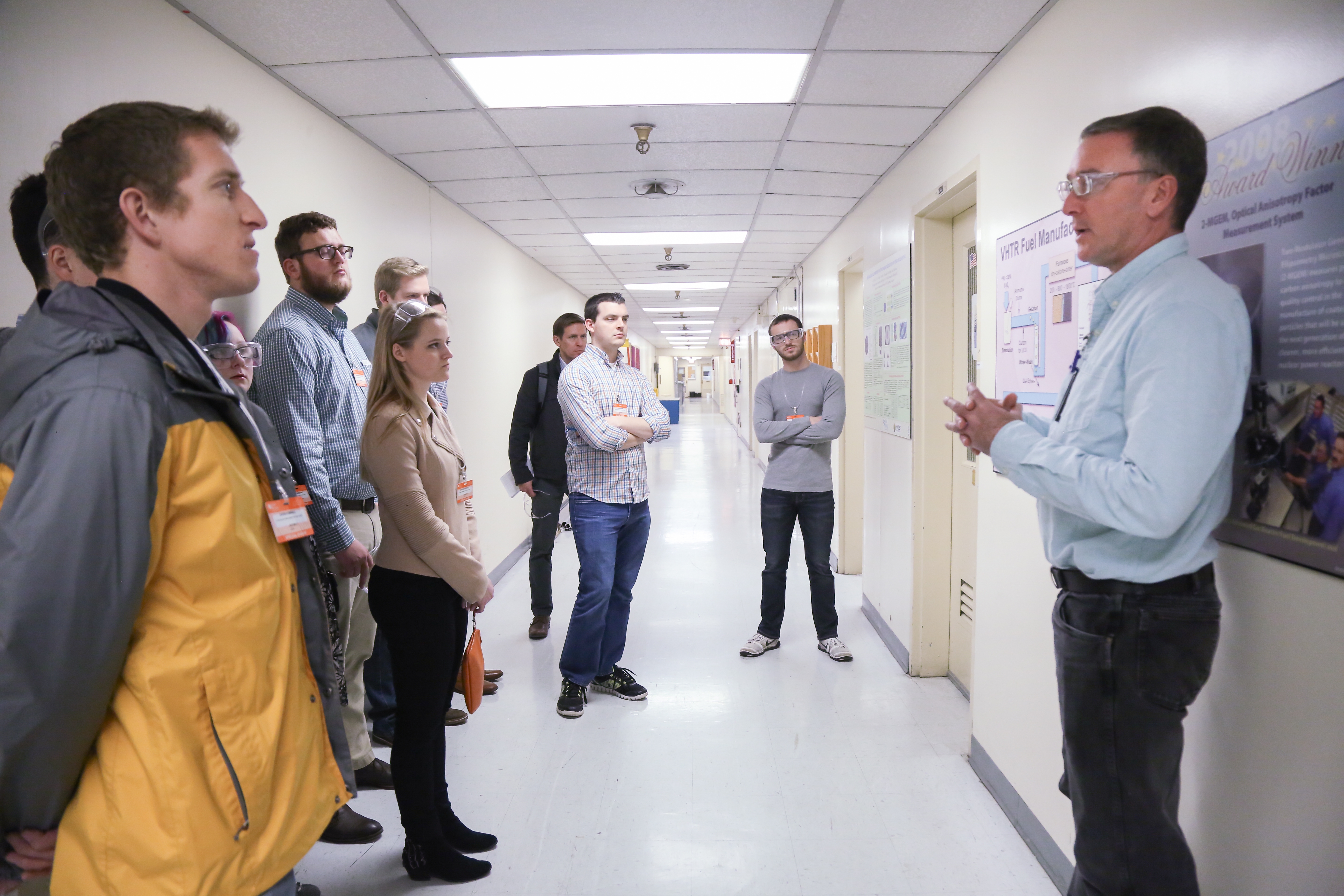 "From UT's side, it is a great selling point in recruitment to show off the opportunities at ORNL and how students can work on their thesis or dissertation using the resources found at the lab," said Josh Jarrell, Reactor and Nuclear Systems Division university coordinator and organizer of this year's tour. "For ORNL, it helps us because we work with a great institution like UT and identify the best and brightest students to join our team."
Throughout the day, students visited various facilities—including the High Flux Isotope Reactor, the Spallation Neutron Source, and the Radiochemical Engineering Development Center—and met with researchers from the Nuclear Science and Engineering Directorate (NSED) and the Neutron Sciences Directorate. The prospective students learned about research and development in advanced reactors, national security, isotope production, and modeling and simulation.
"ORNL's wide range of capabilities makes this a compelling atmosphere for students interested in graduate school at UT," Jarrell said. "We have students who will come in and earn a master's in computational modeling, and then they decide to get a PhD in isotope separation. And it all relates back to being exposed to a variety of nuclear expertise at a national lab."
For many, the tour ignites the collaboration process that will continue for years, as evidenced by the numerous current full-time NSED staff members who completed degrees at UT while also spending time in internships, fellowships, and other positions at ORNL.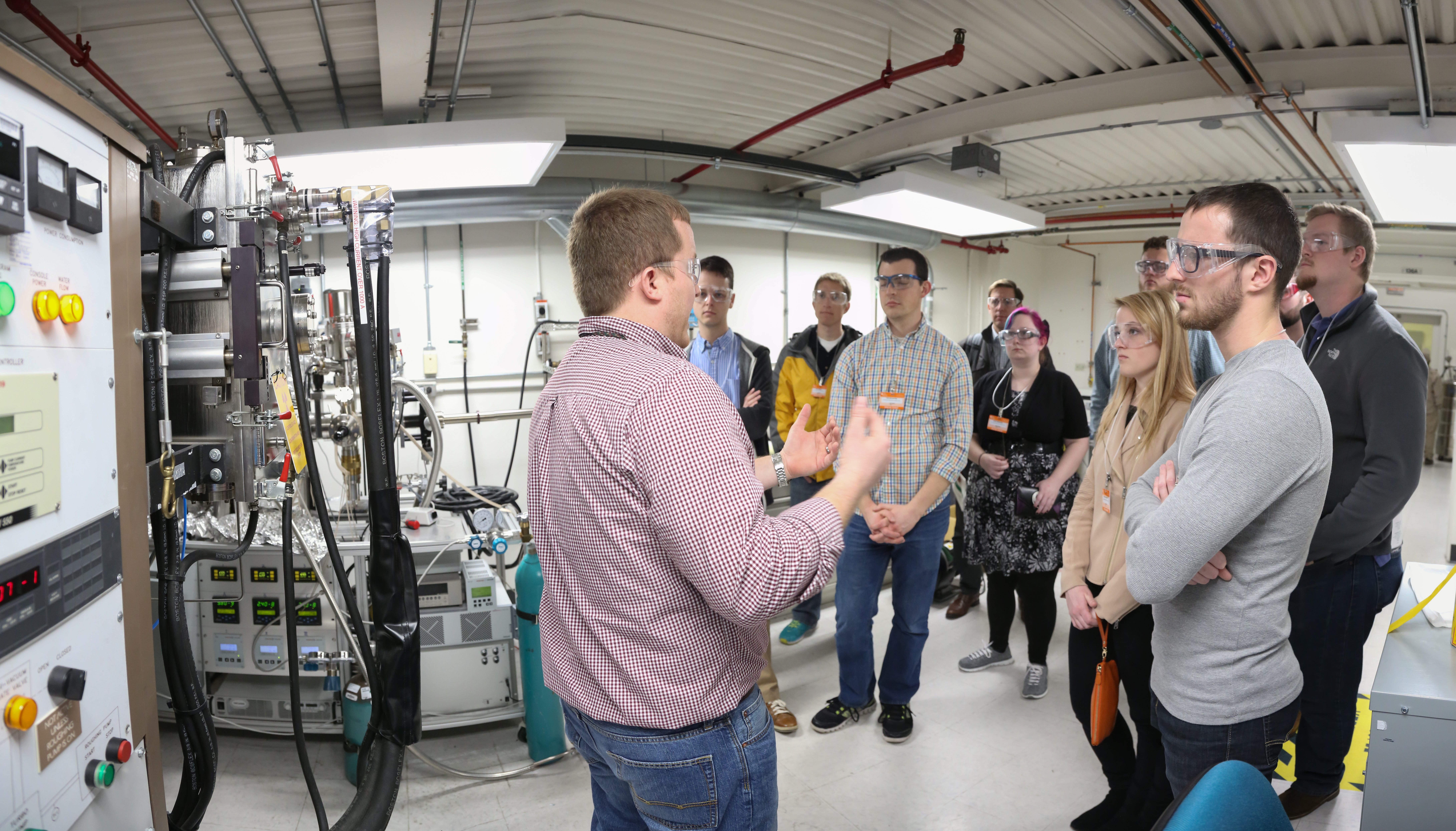 Emilie Fenske—a PhD student working on nuclear forensics analysis under the direction of Howard Hall, UT-ORNL Governor's Chair for Global Nuclear Security—is an example of how the tour sparks an interest for students.
"I knew of ORNL, and I hoped to do my research there since day one," said Fenske, who is also part of the Nuclear Analytical Chemistry and Isotopics Laboratories Group in the Physical Sciences Directorate at ORNL and who collaborates closely with colleagues while continuing research on her dissertation. "But I was not overly familiar with the opportunities and facets of research. When we toured the facilities, I enjoyed learning more about the Manhattan Project history, and I still find that amazing. The tour inspired me to work even harder to be a part of this place."
The combination of support at ORNL from mentors in nuclear forensics and Hall's Institute for Nuclear Security has paved a perfect path for Fenske as she moves closer to finishing her PhD. Jarrell is hopeful that UT and ORNL will replicate that experience with the incoming class.
"I enjoy working with students, and I especially look forward to the mentor–mentee relationship," Jarrell said. "It's rewarding to help students grow into great students. And frankly, I love having them come to ORNL full-time as they grow into key members of our team."
ORNL is managed by UT-Battelle for the DOE's Office of Science, the single largest supporter of basic research in the physical sciences in the United States. DOE's Office of Science is working to address some of the most pressing challenges of our time. For more information, please visit science.energy.gov.