2020 Best Workplace for Commuters, National Standard of Excellence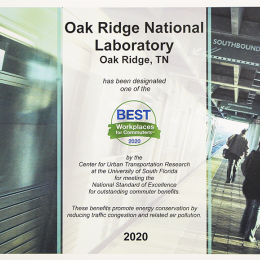 Oak Ridge National Laboratory
On January 30, 2020, Oak Ridge National Laboratory was recognized as a 2020 Best Workplaces for Commuters for meeting the program's National Standard of Excellence by providing comprehensive commuter benefits and collectively changing how employees commute to and from work each day. ORNL is among great company in the list with employers like Google, The Walt Disney Company, The Nature Conservancy, Facebook and Mayo Clinic, along with universities such as Virginia Tech, University of California Los Angeles, Harvard University, The University of Texas at Austin, and University of North Carolina at Chapel Hill.
"Being designated as one of the Best Workplaces for Commuters is more than just a title; our awardees stand behind their commitment to provide comprehensive commuter programs, "said Julie Bond, Program Manager for Best Workplaces for Commuters. "Besides being a leader in the nation's evolving transportation landscape, BWC members are better able to recruit and retain talent, save on overhead costs, and be more environmentally sustainable."
We promote electric vehicle use and have installed electric vehicle charging stations.
We offer a carpool/vanpool program that provides premium parking to participants.
We implemented alternative work schedules and a formal telework process to allow employees to work from home or other remote locations.
We initiated a commuter transit service (bus) that connects UT-Knoxville, Pellissippi Community College, and ORNL
We partner with Smart Trips to promote sustainable commuting.
We provide a no-cost taxi service (two taxis in full-time operation) for access to facilities throughout our 10,000-acre campus.
We provide two-hour parking spaces for employees who need to attend meetings in our more heavily-congested areas.
About Best Workplaces for Commuters
Best Workplaces for Commuters (BWC) is the national authority on recognizing and assisting workplaces that provide comprehensive commuter benefits to employees. More than a recognition program, BWC provides the necessary assistance to create and sustain employer provided commuter benefit programs and offers recognition and tailored support for Employers, Universities, and Sites.
The program is managed by the Center for Urban Transportation Research at the University of South Florida with support from the Florida Department of Transportation.