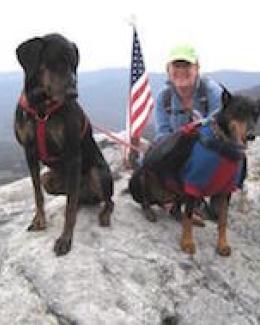 Melanie A Mayes
Distinguished Staff Scientist and Biogeochemical Dynamics Group Leader
Bio
Dr. Melanie Mayes (she/her/hers) is a Distinguished Staff Scientist and Biogeochemical Dynamics Group Leader with the Environmental Sciences Division and the Climate Change Science Institute. She also holds Joint Faculty Appointments with the Department of Earth and Planetary Sciences, and the Department of Biosystems Engineering and Soil Science at the University of Tennessee. She is an Associate Editor with the journal Biogeochemistry, she was elected to serve on the DOE's Environmental Molecular Sciences Laboratory's User Executive Committee, and she chairs ORNL's Distinguished Staff Fellowship Committee. She was a lead science editor of the US Global Change Research Program's Second State of the Carbon Cycle Report, available at the following link: https://carbon2018.globalchange.gov/.
Melanie has a background in geology and contaminant hydrogeology. She designs experiments to build better models of natural processes, and is interested in diverse research at the intersection of water, minerals, solute chemistry, and biological cycling. Her current research involves improving the representation of terrestrial carbon cycling processes in Earth system and process models, understanding the effects of urbanization on ecosystem processes, developing techniques to incorporate metagenomic information into nutrient cycling models, developing technologies to reduce mercury loading and methylmercury generation in surface and ground water systems, and using advanced techniques such as neutrons to understand the interface of soil organic matter and minerals. A recent feature article on Melanie's research is here: https://www.ornl.gov/news/melanie-mayes-trail-climate-impacts-tropics-c…
In her spare time, Melanie hikes the wonderful southern Appalachian mountains with her partner and dogs. 
Awards
Melanie Mayes received the U.S. Department of Energy Early Career Award for the proposal "A Comprehensive Framework for Modeling Emissions from Tropical Soils and Wetlands". In 2015, she was an Honoree of the Knoxville YWCA's Tribute to Women. In 2014, she was elected Fellow of the American Association for the Advancement of Science. She was also the 2011 recipient of the Stanley I. Auerbach Award for Excellence in Environmental Sciences from the Environmental Sciences Division at ORNL, the University of Tennessee Earth and Planetary Sciences Young Alumna Award, and was an Associate Editor of Excellence by the Soil Science Society of America Journal.