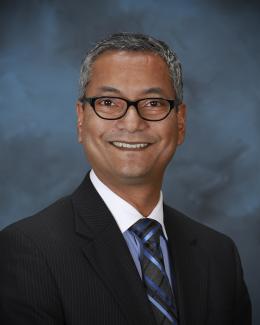 Contact Information
Budhu L Bhaduri
Corporate Research Fellow and Group Leader
Bio
Dr. Budhendra Bhaduri is a Corporate Research Fellow at Oak Ridge National Laboratory (ORNL) and leads the Geographic Information Science and Technology (GIST) group within the Computing and Computational Sciences directorate.  He is a founding member of the U.S. Department of Energy's Geospatial Sciences Steering Committee. He is internationally recognized for his leadership role in conceiving, designing, and implementing innovative geocomputational methods and algorithms to solve a wide variety of national and global problems involving population dynamics modeling, natural resource studies, transportation modeling, critical infrastructure protection, and disaster management. He is a principal member of the LandScan global population modeling programs at ORNL, which, in 2006 won a prestigious R&D 100 award as one of the top 100 global technologies serving society. In addition to his contributions in human settlement studies, he has extensive experience of novel implementation of geospatial science and technology in other areas sustainable development research, including human dimensions of critical infrastructure, urbanization and watershed impacts, and energy resource assessment. Dr. Bhaduri is actively involved with academic institutions for scientific collaborations and student engagement for research in geospatial science. He is a recipient of the Department of Energy's Outstanding Mentor Award for his dedicated service to the department for developing future workforce for the nation.
Awards
Corporate Research Fellow in recognition of highest technical excellence in novel development and implementation of geocomputational methods, Oak Ridge National Laboratory
Homeland Security Award in the field of Emergency Response to Natural and Man-made Disasters, sponsored by the Christopher Columbus Fellowship Foundation and AgustaWestland North America
Award for R&D Leadership of the Geographic Information Science and Technology Group and achievement of international recognition for programmatic scientific impacts, Oak Ridge National Laboratory
Award for Outstanding Team Effort for Engineering Research and Development, Oak Ridge National Laboratory
Letter of Recognition for contributions to the Biomass 2009: Fueling Our Future Conference, the Office of Biomass Program, Department of Energy
Esprit de Corps Award for Outstanding Community Service, Oak Ridge National Laboratory
Best ORNL Laboratory Directed Research and Development Project Award as part of the contributing team
Keynote Speaker, 2008, NATO Advanced Research Workshop, GeoVisual Analytics: Geographical Information
Processing and Visual Analytics for Environmental Security, Trento, Italy.
Invited Participant, 2007, USDA/ERS and Farm Foundation workshop on "New Developments in U.S. Land-Use Data Collection and Analysis: Implications for Agriculture and Rural Land". October 2007, Washington, DC.
Guest Editor, 2007, Special issues of Springer's GeoJournal dedicated towards "The Geography of Global Population Dynamics".
Invited Speaker, 2005, National Academy of Sciences, Board of Earth Sciences and Resources, Mapping Sciences Committee Meeting (on Land Cover and Land Use Mapping).