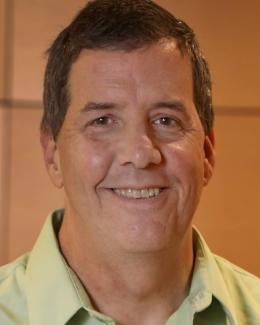 Contact Information
Bruce E Wilson
Group Leader and ORNL DAAC Manager
Bio
I'm a scientist who's found a love of building and managing information systems, particularly those that enable science.  I started my career as a chemist, specializing in analytical chemistry, polymer chemistry, and multivariate statistics.  As high throughput research methods evolved in material science, I started drowning in data. The software I built to help me make sense of my data was useful to others, and my work shifted over time to primarily designing and building information systems for other chemists and material scientists.  In 2006, I joined ORNL's Environmental Sciences Division to design and build information systems for climate scientists and ecologists. In late 2010, I moved into the Information Technology Services Division, where I was an Enterprise Architect, focused on how information technologies enable scientists and engineers across ORNL.  In 2018, I returned to the Environmental Sciences Division where I am the Group Leader for Remote Sensing and Environmental Informatics and the Manager for the NASA-funded ORNL Distributed Active Archive Center for Biogeochemical Dynamics (ORNL DAAC).  
Areas of expertise: Information systems architecture to support R&D; data architecture; integration of field, airborne, and satellite data; identity, access, and credential management (ICAM); security architecture; distributed cyberinfrastructure; scientific informatics and analytics; multivariate data analysis; technical management; geospatial data; science metadata; phenology; spectroscopy; material science.
Awards and Recognition
Senior Member, Association for Computing Machinery (ACM; 2020)
ORNL Significant Event Awards (2008, 2011, 2012, 2016)
Department of Energy Outstanding Mentor Award (2008)
National Science Foundation Graduate Fellow (1985-88)
Phi Beta Kappa (1985)
Projects
Current Projects:
ORNL Distributed Active Archive Center for Biogeochemical Dynamics (ORNL DAAC): The ORNL DAAC is one of 12 distributed active archive centers in NASA's Earth Observing System Data and Information System (EOSDIS).  Roles: Principal Investigator (2008-2010; 2018-present); Systems Engineer (2006-2008)
Accelerating Bioenergy Technology Advancement Through FAIR Data Delivery: Proof-of-concept project to demonstrate the impact of improving the Findability, Accessibility, Interoperability, and Reusability of selected bioenergy technology datasets, particularly those from unpublished studies (often so-called "failed" experiments).  Role: Principal Investigator (2020-present)
Bredesen Center for Interdisciplinary Studies, Data Science and Engineering Program:  includes application of machine learning and computer vision to additive manufacturing for process control.  Role: Joint Faculty and Ph.D. thesis advisor
University of Tennessee School of Information Sciences: Adjunct Faculty Member
Selected Past Projects:
Independent Review Board for the NASA Planetary Data System (2020-2021). The purpose of this panel is to make recommendations to NASA regarding ways to improve the effectiveness of the overall system of systems that comprise the planetary data ecosystem.  Role: Committee Co-Chair and lead for the Mining and Automation Subcommittee.
Management of Site Assessment Data: Automate the extraction of metadata to improve the Findability, Accessibility, Interoperability, and Reusability (FAIRness) of data from data to support nonproliferation activities. Role: Systems Analyst
Data Observation Network for Earth (DataONE; https://dataone.org): DataONE is an NSF-funded, community driven project providing access to data across multiple member repositories, supporting enhanced search and discovery of Earth and environmental data. Roles: University of Tennessee Principal Investigator (2008-2013); cyberinfrastructure co-lead (2008-2013); Leadership Team member (2008-2016); Member Node onboarding coordinator (2012-2015)
European Union Biodiversity Observation Network (EU BON; https://eubon.eu): EU BON was a project to advance technological platforms for biodiversity observation data.  Role: Informatics Advisory Committee Member and liaison to DataONE (2012-2015)
Efficiency and Effectiveness of the NASA Distributed Active Archive Centers Review Panel (2015-2016).  The purpose of this panel was to make recommendations to NASA for ways to improve the DAAC component of the Earth Observing System Data and Information System (EOSDIS).  Role: Review panel chair.
Smart Card Authentication for ORNL: Technical lead for ORNL to implement smart card authentication (2015-16).  Also served on DOE-wide technical interoperability team
ORNL Enterprise Architecture: Lead Enterprise Architect for ORNL, with particular emphasis on identity and access management, remote access, network segmentation, cybersecurity, and mobility (2012-2018)
USA National Phenology Network (USA-NPN; https://usanpn.org): The USA National Phenology Network was established in 2007 to collect, store, and share phenology data and information.  Roles: Cyberinfrastructure Lead (2007-2010); Board of Advisors member (2007-2016)
Discovery, Access, and Delivery of Data for the International Polar Year (DADDI): DADDI was funded under the NASA ACCESS program as a collaboration between the ORNL DAAC, the National Snow and Ice Data Center (NSIDC), and the SocioEconomic Data and Analysis Center (SEDAC) to improve the discovery, usability, and interoperability of data across these three centers.  Role: Co-Principal Investigator (2006-2008)
Dow Chemical Company High Throughput Research Informatics: Technical lead for 41-person team across 4 countries developing informatics tools and providing informatics support to researchers in material science, formulations and catalysts (2001-2006)
Dow Corning Sealant Pilot Plant: Served as a developer, data architect, data scientist, and troubleshooter for a project to instrument a pilot plant for industrial sealants
Publications
Selected Publications:
Peter E. Thornton, Rupesh Shrestha, Michele Thornton, Shih-Chieh Kao, Yaxing Wei, Bruce E. Wilson "Gridded Daily Weather Data for North America with Comprehensive Uncertainty Quantification" Scientific Data (2021) doi:10.1038/s41597-021-00973-0 
Suresh Vannan, Robert R. Downs, Walt Meier, Bruce E. Wilson, and Irina V. Gerasimov "Data sets are foundational to research. Why don't we cite them?" Eos 101 (2020) https://doi.org/10.1029/2020EO151665  
Alyssa Rosemartin, Ellen Denny, Jake Weltzin, Lee Marsh, Bruce E Wilson, Hamed Mehdipoor, Raul Zurita-Milla Mark Schwartz "Lilac and Honeysuckle Phenology Data 1956–2014" Scientific Data (2015) doi:10.1038/sdata.2015.38 
Dali Wang, Wilfred M. Post, Bruce E. Wilson "Climate Change Modeling: Computational Opportunities and Challenges" Computing in Science and Engineering  vol 13, 36-42 (2011)  https://doi.org/10.1109/MCSE.2010.147
Suresh Kumar Santhana Vannan, Robert B. Cook, Bruce E. Wilson, Susan K. Holladay, Lisa M. Olsen, and Upendra Dadi "A Web-Based Subsetting service for Regional Scale MODIS Land Products" IEEE Journal of Selected Topics in Earth Observations and Remote Sensing, vol 2#4 319-328 (2009) https://doi.org/10.1109/JSTARS.2009.2036585
Jeffrey T. Morisette, Andrew D. Richardson, Alan K. Knapp, Jeremy I. Fisher, Eric A. Graham, John Abatzoglou, Bruce E. Wilson, David D. Breshears, Geoffrey M. Henebry, Jonathan M. Hanes, and Liang Liang "Tracking the rhythm of the seasons in the face of global change: phenological research in the 21st century"  Frontiers in Ecology and the Environment 7#5 (2009) 253-260 https://doi.org/10.1890/070217
Thomas H. Kalantar, Christopher J. Tucker, Andrew S. Zalusky, Thiomas A. Boomgaard, Bruce E. Wilson, Mladen Ladika, Susan L. Jordan, Wen K. Li, Xin Zhang, Chin G. Goh, "High Throughput Workflow for Coacervate Formation Characterization in Shampoo" Journal of Cosmetics Science  58(4) 375-83 (2007) link to article
Kevin P. Peil, David R. Neithamer, Donald W. Patrick, Bruce E. Wilson, Christopher J. Tucker "Applications of High Throughput Research at The Dow Chemical Company" Macromolecular Rapid Communications 25(1), 119–126 (2004) https://doi.org/10.1002/marc.200300160
Alan S. Jones, Todd J. Dickson, Bruce E. Wilson & Jean Duhamel "Fluorescence properties of poly(ethylene terephthalate-co-2,6-naphthalene dicarboxylate) with naphthalene dicarboxylate contents ranging from 0.01 to 100 mole%" Macromolecules 32(9) 2956-2961 (1999) https://doi.org/10.1021/ma9811573
Bruce E. Wilson, Walter Linberg & Bruce R. Kowalski "Multicomponent quantitative analysis using second-order nonbilinear data: theory and simulations" Journal of the American Chemical Society 111(11) 3797-804 (1989) https://doi.org/10.1021/ja00193a006
L. Scott Ramos, Kenneth R. Beebe, W. Patrick Carey, Eugenio Sanchez, Bryce C. Erickson, Bruce E. Wilson, Lawrence E. Wangen, and Bruce R. Kowalski "Chemometrics" Analytical Chemistry 58(5) 294R-315R (1986) https://dx.doi.org/10.1021/ac00296a020
See my Google Scholar profile for a full list
Selected Invited Presentations:
"Who am I; Who are You; and What Data are We Talking About?" (presenter and panelist) DOE Conference on Data Analysis (CoDA), Sante Fe, NM, March 15, 2018
"Multifactor Authentication Implementation at Oak Ridge National Laboratory" (presenter and plenary panelist), US Department of Energy National Laboratories Information Technology Conference, Albuquerque, NM, May 3, 2016
"ICAM Next Steps" (invited presentation and panelist) US Department of Energy Information Management Conference, workshop on Identity, Credential, and Access Management, Nashville, TN, June 15, 2015
"Data Quality and Integrity to Enable Science" (invited presentation and panelist) CENDI-NFAIS Workshop on Data Quality and Integrity, Alexandria, VA, November 20, 2014
"Data Citation and Data Attribution: A View from the Data Center Perspective" (invited presentation) Board of Research Data and Information of the National Research Council, Workshop on Data Attribution and Citation Practices, Berkeley, CA, August 22-23, 2011.  Published in Paul E Uhlir (ed) Developing Data Attribution and Citation Practices and Standards: Summary of an International Workshop National Academies Press (2012), ISBN 978-0-309-26728-1. Available at http://www.nap.edu/catalog.php?record_id=13564
"Issues and Challenges in the Management of Data and Knowledge from High Throughput Research in Catalysis and Material Science" International Chemical Information Conference, Nimes, France, October 16-19 (2005)
"Genetic algorithms" Gordon Research Conference on Statistics in Chemistry and Chemical Engineering, New Hampton NH, July 26-30 (1993)
Datasets:
Patents:
Bruce E. Wilson and Clinton Cherry "Fiber reinforced resins with improved physical properties and process for producing same"  US Patent #6,277,909 (2001)
Joespeh R. Zoeller, Courney A. Crooks and Bruce E. Wilson "Process for the conversion of carboxylic acids to ketones"  US Patent #6,265,618 (2001)
Bruce E. Wilson and Clinton Cherry "Fiber reinforced resins with improved physical properties and process for producing same"  US Patent #6,051,644 (1999)
Howard S. Carman, Daniel C. Alsmeyer, Carlos H. Juarez-Garcia, Andrew W. Garrett, Bruce E. Wilson & Vincent A. Nicely, "Method for standardizing Raman spectrometers to obtain stable and transferable calibrations" US Patent #5,850,623 (1994)
Service
Co-Chair, NASA Distributed Active Archive Center Managers Council (2020-present)
Summer Fellowship Interviewer and Application Reviewer, CODE2040 (2021-present)
Summer Fellowship Mentor, CODE2040 (2020-present)
Mentor, Collaborative Analysis Liaison Librarians program (2019-present)
Topic Editor, Journal of Open Source Software (2019-2021)
Informatics Advisor, European Union Biodiversity Observation Network (2016-18)
Board of Advisors, USA National Phenology Network (2007-16)
Member, US Research Software Engineer Association (2020-present)
Member, American Association for the Advancement of Science (2008-present)
Member, American Geophysical Union (2006-present)
Member, Association for Computing Machinery (2004-present)
Proposal reviewer for multiple funding calls for NASA, National Science Foundation, and the Department of Energy
Past Member, American Chemical Society (including Computers in Chemistry Division and Chemical Information Division).  Served as a Public Relations chairperson for the Northeast Tennessee Section and helped the section win a national award for PR activities and an Outstanding Section Award.