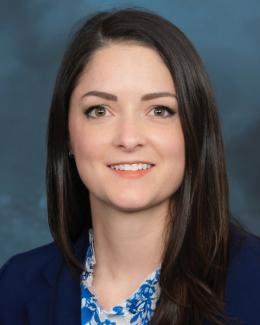 Amy M Elliott
Group Leader - Robotics and Intelligent Systems
Bio
Amy Elliott "caught the STEM bug" from FIRST Robotics, leading to her majoring in mechanical engineering at Tennessee Tech University, where she continued learning hands-on fabrication by building and racing student competition vehicles (Baja SAE and NASA Moonbuggy) and interning at various NASA centers. Because of Amy's fabrication experience, she was cast on Discovery Channel's The Big Brain Theory, a reality show competition for engineers, where she placed 2nd out of 10 contestants. 
Amy graduated with a PhD from Virginia Tech, where she was project lead for the world's first 3D printing vending machine, the DreamVendor. Amy is now an R&D staff member at Oak Ridge National Laboratory's Manufacturing Demonstration Facility where she meets with industry from across the nation to consult them on proper application of 3D printing technologies. She conducts research in the areas of inkjet-based metal and ceramic 3D printing and holds several patents. In her free time, Amy tinkers with hobby 3D printers and films as a science-personality for the Science Channel's Outrageous Acts of Science, explaining the engineering and science behind viral video clips.  
Awards
• ASTM International Additive Manufacturing Young Professional Award 2021
• Tennessee Valley YWCA 2021 Tribute To Women Science, Technology, And Environment Honoree 
• Amy Elliott – Society of Manufacturing Engineers - Top 20 Women in Robotics 2021 https://www.sme.org/technologies/articles/2021/february/twenty-women-ma…
• 2019-2021 AAAS (American Association for the Advancement of Science) IF/Then Ambassador
Professional Affiliations
Society of Manufacturing Engineers - Advanced Manufacturing Technical Advisor
ASM International - Oak Ridge Chapter Sub-Chair
American Society of Mechanical Engineers
ASTM
Trademarks and Patents
Lara-Curzio, Edgar… A.M.Elliott. 2023. "Compliant heat exchangers, heat pipes and methods for making same."

US-11633789-B2

.

Schroder, Michael… A.M. Elliott. 2022. "Systems and Methods for Additively Manufacturing Caloric Microstructures."

US-20220055308-A1

.

Anderson, David A… AM. Elliott. 2022 "Method for producing collimators and other components from neutron absorbing materials using additive manufacturing."

US-11404180-B2

.

Anderson, D. C., A. M. Elliott, B. Haberl, and G. E. Granroth. 2022. "Additive manufacturing of composite neutron absorbing components." US11538597B2.
Cramer, C. L., R. A. Lowden, K. A. Unocic, J. W. McMurray, and A. M. Elliott. 2022. "Indirect additive manufacturing process for producing SiC—B4C—Si composites." US11364654B2.
Pawlowski, A. E., A. Shyam, D. A. Splitter, A. M. Elliott, and Z. C. Cordero. 2022. "Additive manufactured interpenetrating phase composite." US11325206.
Klett, J. W., A. M. Elliott, M. S. Edwards, K. L. Hedrick, R. K. Duncan, A. G. Hessler, and C. L. Cramer. 2021. "Apparatus and method for three-dimensional metal printing." US11090726.
Lara-Curzio, E., C. L. Cramer, A. M. Elliott, B.A. Fricke, Prashant K.
Saito, T., L. Han, A. M. Elliott, and D. B. Gilmer. 2021. "Water soluble barrier coatings for washout tooling for a composite layup." US11524427B2.
T. Saito, A. M. Elliott, D. T. Brunermer, D. B. Gilmer, M. Lehmann, and H. Yu. 2020. "Indirect additive manufacturing process using amine-containing adhesive polymers." US11254617B2.
Elliott, A. 2019. "Method for producing mechanical engagement between a build platform and additive manufacturing prints." US10245781B2.
Shroeder, Michael… AM. Elliott 2018. "Method for forming a Caloric Regenerator."

US-20180195775-A1

Elliott, A.M. 2018. "Build platform that provides mechanical engagement with additive manufacturing prints."

US-20180147774-A1

Tatum, P. F. III, and A. M. Elliott. 2015. "Thermal Powered Reciprocating-Force Motor." US8938965B1.
Williams, C., A. Elliott, D. McCarthy, and N. Meisel. 2014. "3D Printing Vending Machine." US20140288699A1.