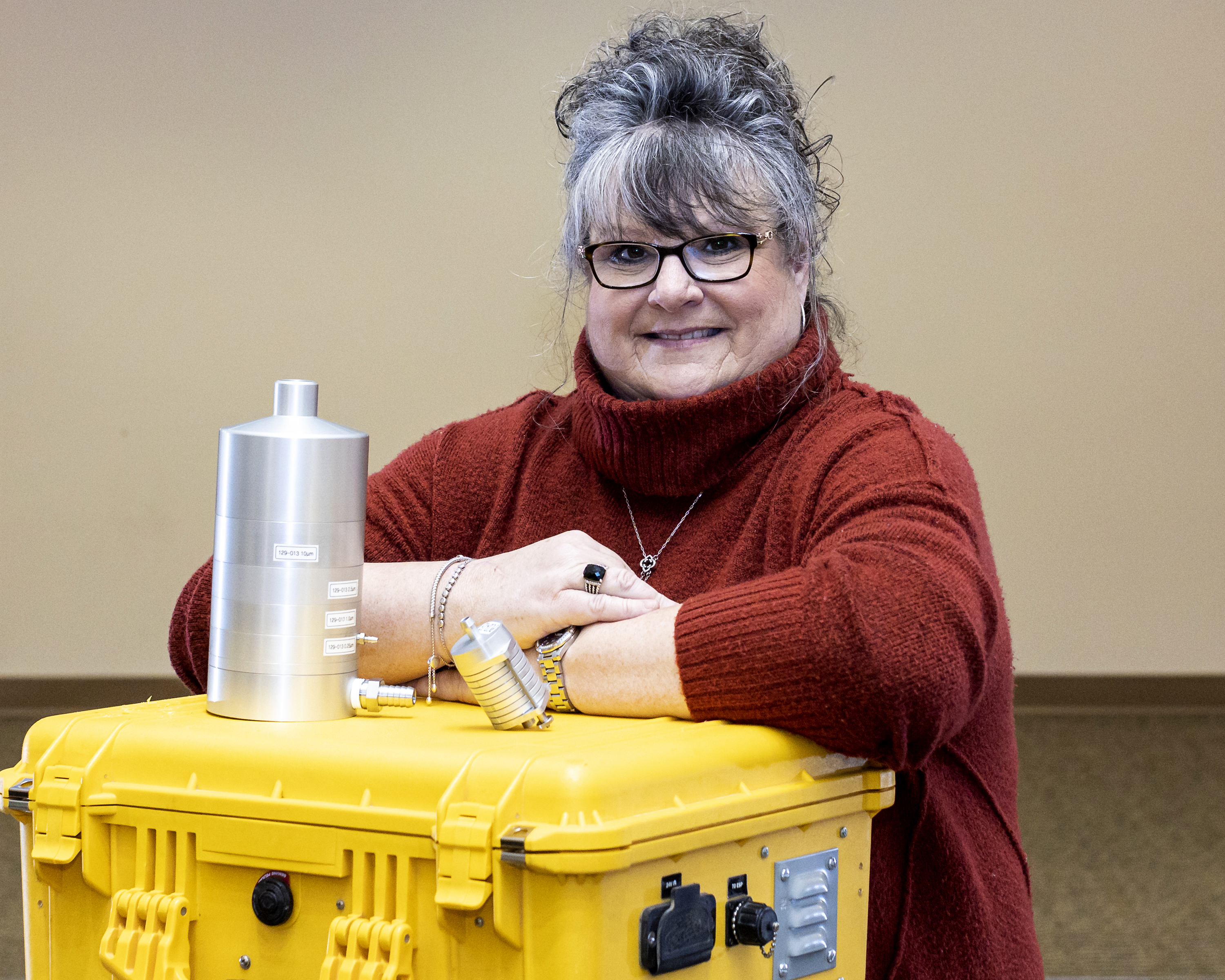 If a nation tries to hide a clandestine nuclear operation, Paula Cable-Dunlap and her team will give their all to help find it.
Just don't call their work "nuclear CSI" – not where she can hear, at least.
"It's never as easy as people make it seem," said Cable-Dunlap, who leads the National Security Sciences Directorate's Collection Science and Engineering Group at Oak Ridge National Laboratory. "Forensics is such a grossly overused term for what we do. "
Cable-Dunlap and her group in the Nuclear Nonproliferation Division track the signs that can uncover illicit nuclear activity or validate a peaceful program's compliance with international obligations.
"Do I think the world is safer because of Paula? Absolutely," said Jeff Johnson, a senior ORNL program manager for nuclear nonproliferation research and development. "She's advanced the science of national security. She's moved the ball forward in terms of nuclear forensics. Because of her, we can detect these kinds of threats at a much lower level than before. But much of the details of what she's done will never see the light of day, and the world will probably never know the full scale of what she's accomplished."
The clues to those threats, mostly invisible to the naked eye, can be found in what Cable-Dunlap and her fellow scientists call nuclear signatures.
"It's like piecing together a mosaic," said Kate Buckley, a nonproliferation researcher who's worked on projects with Cable-Dunlap for the past five years. "The more signatures you can tie together, the more likely you are to get a good answer forensically."
Effluents – discharges that include tiny, microscopic particles of solids and gases ­– can point to nuclear processes. Emanations – invisible, intangible signals such as sound and radio frequency waves, electromagnetic pulses, and seismic vibrations – can offer the first clues to a nuclear operation underway. Seismic and acoustic measurements, for example, have been used in tests to pinpoint when ORNL's High Flux Isotope Reactor switches on and off, even to estimate the reactor's power levels. Artificial-intelligence systems keep a round-the-clock watch over a neverending stream of such measurements.
"It's a whole different kind of data," Cable-Dunlap said. "We have to determine if these signals are actually meaningful. Using artificial intelligence, you start to pick up patterns, about as well as or better than humans sifting through the data. We can measure a particular signal, compare it to the operational logs and use that data to train the AI on what to look for. I know that whole term 'artificial intelligence' tends to be overused, but I've seen the power and it's pretty amazing – and those technologies have been developed here at ORNL by people in my group.
"The signal doesn't mean anything until you can correlate it to something we know is happening. You have to be able to prove it – and because we have the facilities here, boy, can we prove it."
Cable-Dunlap has made finding that proof a career for more than 25 years. She joined ORNL in March 2010 after 18 years at Savannah River National Laboratory in Aiken, S.C., where she led the Nuclear Effluent Analysis Group and served as point-of-contact for various government agencies. Her work for the U.S. government and the International Atomic Energy Agency, which seeks to prevent the spread of nuclear weapons, often calls her to destinations far and wide to perform or report on her research.
"I wouldn't trade it for anything," Cable-Dunlap said. "I found my life's work when I figured out that I could combine being a scientist with protecting this nation."
None of that career lay in sight the day she walked out of a college biology class in tears. She'd grown up the daughter of a nurse, determined to pursue a career in medicine from childhood, and was two semesters away from a double degree in biology and chemistry, with med school waiting just beyond.
Then came time to knock out and cut up a living, breathing – and squirming – rat. All the scientific curiosity in the world wasn't enough.
"I could not do it," Cable-Dunlap recalled. "It bothered me to cut something living. I knew then if I couldn't do it to a rat, I couldn't do it to a human, even to help the person. My advisor came to see me and asked me what I was going to do. I said, 'Not that.'
"That changed my whole life – all because of a rat."
Her advisor found her a co-op student position at DuPont Imaging Systems, where work as a raw materials analyst and quality-assurance specialist brought out a lifelong obsession with instrumentation that's stayed with her ever since.
"I fell in love with the ability to take a piece of equipment and characterize something so that you could fully understand it," she said. "I became fascinated with material properties to figure out why something wasn't working in the X-ray film or why one thing worked better than another. If you have a flaw in the film, the doctor could crack open a child's chest unnecessarily, just because of a speck in the film."
She followed that fascination to graduate study in chemistry at Clemson University. While there, she and her advisor received funding from the U.S. Department of Energy's Office of Environmental Management to develop a method to analyze radioactive waste that had been vitrified into glass. She developed a method to study that waste by using the glass as an anode in an electrochemical reaction to produce a plasma for sampling – safer and more stable than trying to dissolve the glass in toxic acids to form a liquid that could be analyzed using conventional methods.
"That way we avoided having to do extensive cleanup," she said. "And so I fell into the nuclear world."
In the early 1990s, Cable-Dunlap helped test material from Iraq for the IAEA following the Gulf War. Most of those samples were collected using methods less than ideal for the analysis of particles.
 "My goal was to get rid of the background materials, including filters, that were used for some collections," she said. "Often the filters contained the very material you were trying to analyze. I realized then the way to capture samples is to capture what's airborne at the time on a very pure collection media, to get a snapshot of a place in time."
So Cable-Dunlap did what came naturally: She found a better way. She developed a method built around ionization to break down gases in the air stream and collect cleaner, more reliable samples of particles. She and two colleagues patented a collection device using the method. That device, still considered a standard-setter, was later tested in the Atacama Desert, one of the world's driest environments, in consideration for use aboard the Mars Rover.
When Cable-Dunlap arrived at ORNL in 2010, she and others helped obtain funding for a new testing complex, the Ultra-Trace Forensic Science Center, in ORNL's former Mouse House. The building, previously home to pioneering genetic experiments with mice, had sat vacant since the DOE discontinued its genetic research program in the early 2000s – until ­Cable-Dunlap and her colleagues recognized its potential to become a world-class trace forensics center.
Inside the center's pristine cleanrooms, free of outside particles – even human skin cells – that could skew testing, analysts today separate samples from across the globe into individual particles and search for their stories.
"They have some of the best detection limits of any operation in the world," Cable-Dunlap said. "They're able to achieve results that are unrivaled. We can work with researchers at the Center for Nanophase Materials Sciences and the Spallation Neutron Source and analyze samples down to single atoms."
Collecting those samples brings some of her greatest delight. She's led or participated as a collector in more than 50 field tests over the years, gathering samples and piecing them into the mosaic.
"Paula is not just the collection-science guru but the queen of collection in the field," said Jennifer Ladd-Lively, head of ORNL's Proliferation Detection and Deterrence Section. "It's like watching a conductor in front of an orchestra. It might wear the rest of us out, but she'll be out there servicing the equipment, harvesting the samples, getting her hands dirty with the rest of us, and loving every minute."
Cable-Dunlap still loves the fieldwork, but as group leader she spends more time now on strategy – coordinating efforts, encouraging colleagues and looking for new ways to improve the science she's devoted her life to pursuing as ORNL and the Nuclear Nonproliferation Division continue to expand.
"Being a woman in science, you can find challenges you wouldn't expect," Buckley said. "Paula's willing to share her experience as she's gone through it. As a new person with new ideas, she's always going to listen to you and support you if it's at all possible, because she leads by uplifting those around her."
Ladd-Lively, the section head, looks up to Cable-Dunlap as one of her mentors – and now acts as her boss.
"Some of her best mentoring is in little stuff: the encouragement, the support, the push to go after something I didn't necessarily think I could go for," Ladd-Lively said. "Sometimes you just need somebody to say, 'Yes, I've been there and done that, too.' She sees past the obstacles to the goal and finds a way."
Those brainstorming and mentoring sessions come with a cost. Cable-Dunlap routinely logs marathon days, toiling behind closed doors to keep safe a world that will never know to thank her.
"What people don't realize is Paula's often here until late at night, long after everyone else has gone home," Buckley said. "She's known quite often to be the last person to leave. She does much of what she needs to do after-hours so she can spend normal business hours helping others, collaborating, and getting groups together. That's part of what she enjoys, so she makes that choice: To put in the extra time to help others and to give that time whenever she can to whoever needs it."
For Cable-Dunlap, the mission's worth every sacrifice.
"Once I figured out what I was inspired by, the rest was easy," she said. "If I have this ability, I have to help protect this country in any way I can. And if I think of something that I or other people at this laboratory can do to help national security, I can't turn a blind eye to it. I have to do my part."
ORNL is managed by UT-Battelle for the Department of Energy's Office of Science, the single largest supporter of basic research in the physical sciences in the United States. DOE's Office of Science is working to address some of the most pressing challenges of our time. For more information, please visit https://www.energy.gov/science/. ~ Matt Lakin