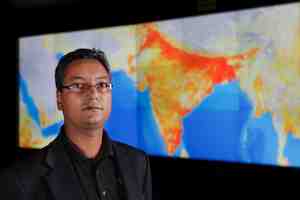 October 5, 2010 - Budhendra Bhaduri of Oak Ridge National Laboratory has been named a recipient of a 2010 Homeland Security Award presented by the Christopher Columbus Fellowship Foundation and AgustaWestland North America.
The award, being presented today in Washington, D.C., is in recognition of his leadership in the development of LandScan USA, a database that estimates at 90-meter cells population distribution of the 50 states during daytime and nighttime hours. Bhaduri's award was for Emergency Response to Natural and Manmade Disaster, one of four award categories.
"The intent of the Homeland Security Awards is to honor 'cutting edge' innovations that are making measurable and constructive contributions related to basic and/or advanced research in the area of homeland security," said Kimberly Owens, chair of the Christopher Columbus Fellowship Foundation.
Bhaduri leads the Geographic Information Science and Technology group at ORNL and is a founding member of the Department of Energy's Geospatial Sciences Steering Committee. He is internationally recognized for his leadership role in conceiving, designing and implementing innovative geocomputational methods to solve a wide variety of national and global problems in energy, environment and national security.
"The unanticipated occurrences of most natural and technological disasters put a large number of people at risk," said Bhaduri, principal member of the LandScan population modeling programs at ORNL and leader of the LandScan USA project. "High-resolution population distribution data is key to disaster management."
Commonly available data from the Census Bureau has traditionally been the exclusive source for population information, but this data represent only nighttime residential population and fail to capture the obvious dynamic behavior of population as functions of space and time. LandScan USA overcomes this shortcoming by taking into account activities of people 24 hours a day.
Bhaduri received bachelor's and master's degrees in geology from the University of Calcutta, India, a master's degree in geology from Kent State University and a doctorate in earth and atmospheric sciences from Purdue University.
The Christopher Columbus Fellowship Foundation is an independent federal government agency established by Congress in 1992 to "encourage and support research, study and labor designed to produce new discoveries in all fields of endeavor for the benefit of mankind."
AgustaWestland North America, a subsidiary of AgustaWestland, a Finmeccanica company, is FOCI mitigated and responsible for the company's U.S. government programs. It is a global leader in military and commercial vertical lift.
ORNL is managed by UT-Battelle for the Department of Energy's Office of Science. 
Media Contact