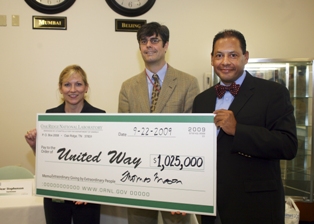 December 2, 2009 — Oak Ridge National Laboratory is charting big numbers again, but this time it's not megawatts or petaflops. The Department of Energy laboratory for the second time has topped the $1 million mark in its 2009 United Way campaign.
This year's campaign exceeded its $925,000 goal with a total of $1,025,000, which includes employee contribution and a UT-Battelle corporate donation.
Campaign chair Edgar Lara-Curzio said the laboratory's continued outstanding support of United Way couldn't come at a better time.
"Charitable contributions in the United States decreased more in 2008 than any time in the past 50 years. United Way agencies are experiencing a double whammy, because as contributions shrink, the needs for their services increase," Lara- Curzio said.
Helping to fill the gap this year were ORNL retirees, who were invited for the first time to contribute to the Lab's campaign. They responded with $15,000 in contributions to the campaign.
University of Tennessee coach Lane Kiffin visited ORNL in June to begin the Lab's 2009 United Way campaign, chaired by Edgar Lara-Curzio.
Special United Way activities also helped, such as the International Festival, which raised approximately $5,000; the book fair, raising $3,800; and the football and corn toss competitions, which drew in another $3,000. The Information Technology Services Division and U.S. ITER office raised a combined $3,000 with campaign activities.
UT-Battelle began managing ORNL for the Department of Energy in April 2000. Staff and corporate donations since then to United Way have exceeded $5 million and more than $9 million has been given to area organizations in support of science and math education, economic development, and other civic projects.
The Knoxville Utilities Board's Mintha Roach, member of the greater Knoxville United Way board, noted at the laboratory's Leadership Givers' breakfast that ORNL is the Knoxville campaign's largest corporate contributor.
"ORNL was a critical element in the success of last year's campaign," said Roach, who chaired the Knoxville campaign in 2008. "You were the ones who enabled us to achieve as much as we achieved."
Area counties that receive ORNL United Way donations include Anderson, Blount, Campbell, Knox, Loudon, McMinn, Monroe, Morgan, Rhea, Roane, Sevier and Union.
UT-Battelle manages Oak Ridge National Laboratory for the Department of Energy.