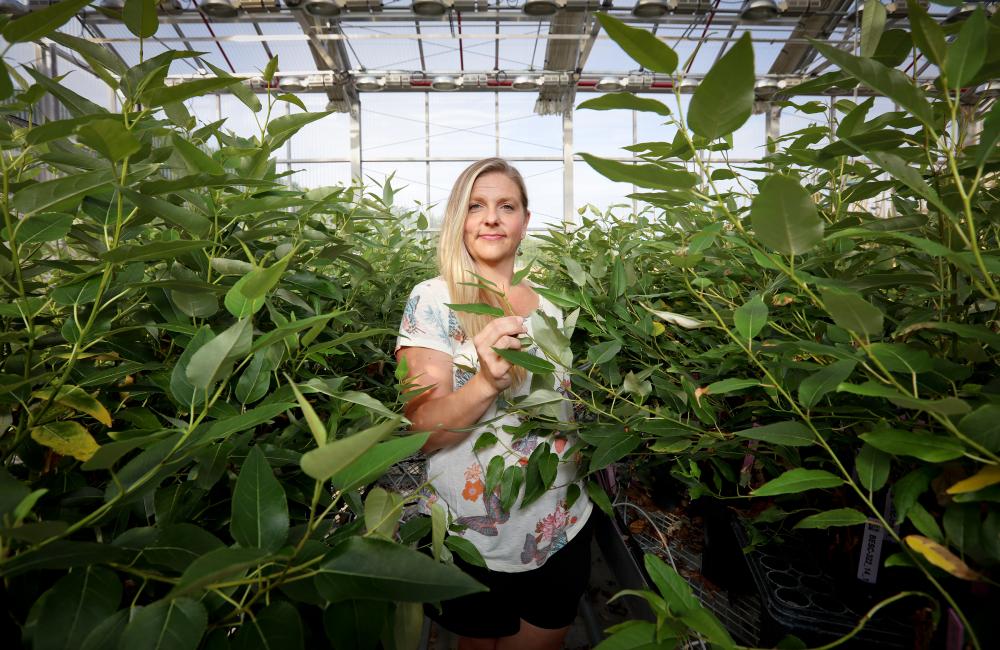 August 23, 2017 – Mindy Clark's enthusiasm for plant biology has only grown from her time in the classroom at the University of Tennessee, Knoxville (UTK) to her years working in greenhouse operations for private industry and more recently at the Department of Energy's Oak Ridge National Laboratory.
Clark's excitement and her meticulous nature lend themselves well to her current work as the ORNL greenhouse manager, producing and maintaining research-grade plant material for the lab's biofuels and other research programs. If you've ever taken a formal tour of the greenhouses on the lab's west side, chances are Clark was your very entertaining and informative guide.
"The science here is amazing," Clark said. "I get to be involved in some form with everything from our GWAS [genome-wide association studies] involving poplar trees, to our CAM [crassulacean acid metabolism] work studying the drought tolerance of agave, and even how we're developing plant materials for 3D printing."
Growing up in Kingston, Tennessee, Clark indulged her natural curiosity by collecting rocks, sticks and leaves—keeping a dresser drawer full of these types of treasures. Although she was aware of the Oak Ridge science legacy, she never considered that she might one day work at the lab.
"My original plan was to be an environmental attorney, and then for a while I took some business classes as an undergrad—and I hated it. The huge economics class I took was horrible," she joked.
After a friend described some botany classes she was taking, Clark decided to try an introductory horticulture course. From the first moment she found herself walking around the greenhouses and gardens at UTK learning plant names, Clark was hooked. She started taking plant pathology classes and never looked back. "I loaded up every semester and ended up with enough hours for more than one degree. I loved it," Clark said.
After graduating with a BS in ornamental horticulture and landscape design and a minor in biological sciences, Clark spent some time working on organic farms and backpacking in New Zealand before heading back to the US and to graduate school.
She worked as a graduate research assistant at UTK while earning a master's degree in entomology and plant pathology. "I wanted more science in my studies, so I loved working in the lab. I was able to combine lab work with plants and fungi. It was awesome," she said. After graduating in 2006, Clark accepted a position as greenhouse manager for Bayer Crop Science in Memphis, Tennessee.
At Bayer, she managed greenhouse operations for a cotton trait introgression team. She helped develop cotton seeds with attractive plant traits such as herbicide and insect resistance, and she helped design a modern, high-tech automated greenhouse for further research.
After nine years at Bayer and with two young children in tow, Clark and her husband decided to move back to East Tennessee to be closer to family. Clark wasn't sure he'd be able to find a similar job in the region. "I heard about the ORNL greenhouse manager position through a friend," she said. These jobs don't exist in very many places, so it worked out well for me."
The job is similar to her role at Bayer in that Clark works with scientists from all over the world in different research areas. "At ORNL I feel that I'm closer to the actual research, helping set up experiments and in some cases assisting with them," she said.
Clark manages six greenhouses at ORNL. She conducts training; coordinates and facilitates sample collection, transport, and verification; helps meet project deliverables; and acquires data. Recently, her team oversaw the harvest of roots from more than 900 GWAS poplar plants.
She also mentors an intern and has been encouraging him to pursue studies in plant biology after he finishes his associate degree.  "I tell him it will be incredibly fun, and I'll help him study. Personally, if someone would pay me to go to school I'd do it all the time," Clark said.
Away from the lab, Clark enjoys time with her husband and two young daughters. They volunteer with youth soccer and Clark and her oldest daughter are taking dance classes. The family also loves to hike, camp, and play music.
"Being a role model for my daughters is important to me," Clark said. "They love to help me dig in the dirt and water our plants daily. Both girls love to be in nature and I love that about them."
At the lab, success is her biggest motivation. "I like to do things well. It doesn't matter what it is, I want it to be good," Clark said. "I like the diversity here and having the opportunity to talk with scientists about their research. Working on biofuels and other plant-environmental interaction issues makes me feel good about what we're doing. At some point it has an impact not just on one person, but on many."
Whether she's conceiving a new way to grow or fertilize plants, or helping construct a box for gas exchange, Clark said she enjoys coming up with new ideas to help advance science. "I am still learning, and I love that."
UT-Battelle manages ORNL for the DOE's Office of Science. The Office of Science is the single largest supporter of basic research in the physical sciences in the United States, and is working to address some of the most pressing challenges of our time. For more information, please visit http://science.energy.gov/ — by Stephanie Seay