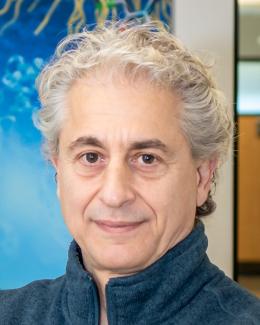 John Katsaras
Distinguished R&D Staff / Soft Matter Sample Environments Responsible
Bio
John joined ORNL as Distinguished R&D staff for Biological Systems and is currently leading the Soft Matter Sample Environments effort in Neutron Scattering Division.
John has a broad academic background that has enabled him to develop, lead, collaborate, and successfully conduct interdisciplinary research for the past 35 years using different scattering (light, x-rays, and neutrons) and biophysical (calorimetry, spectroscopies) techniques, combined with computer simulations. Over the past 25 years, John ,with his students and colleagues, has developed neutron scattering models to analyze neutron scattering data and experimental approaches  to detect nanoscopic lipid domains. Starting in 2020, John and his collaborators have been studying lipid bilayers as potential neuromorphic platforms which exhibit persistent synaptic plasticity in the form of long-term potentiation (LTP), a feature associated with learning and memory. 
Since 1998, John has supervised numerous postdoctoral students who have gone on to have significant scientific careers of their own as professors at universities and staff scientists/directors at national labs/government agencies, and who are known, both nationally and internationally, for their own scientific contributions and achievements. He has presented over 200 invited talks (16 plenary/keynote lectures) and reviewed for a wide range of journals and scientific organizations. Currently, he is associate editor for Chemistry and Physics of Lipids and on the editorial board of Biochimica et Biophysica Acta - Biomembranes and Membranes. John is fellow of the Neutron Scattering Society of America (NSSA) and the American Institute for Medical and Biological Engineering. In 2022, John was the recipient of NSSA's Sustained Research Prize.
Awards
Neutron Scattering Society of America, Sustained Research Prize
Fellow of the Neutron Scattering Society of America
Fellow of the American Institute for Medical and Biological Engineering
Oak Ridge National Laboratory, Significant Event Award, United States
NRC/Steacie Institute for Molecular Sciences: Annual Award for Improving Life in the Institute, Canada
NRC/Steacie Institute for Molecular Sciences: Outstanding Achievement Award, Canada  
NRC/Steacie Institute for Molecular Sciences: Outstanding Achievement Award, Canada
Centre National de la Recherche Scientifique (CNRS), Poste Rouge Fellowship, France
Natural Sciences and Engineering Research Council of Canada, Post-doctoral Fellowship, Canada 
Ontario Graduate Scholarship, Ontario Ministry of Training, Colleges and Universities, ON, Canada  
Physical Sciences Graduate Scholarship, College of Physical and Engineering Science, University of Guelph, ON, Canada
Trademarks and Patents
PATENTS / AGREEMENTS  Patent – NRC/Cincinnati Children's Hospital. "Spontaneously Forming Ellipsoidal Phospholipid Unilamellar Vesicles". X. Qi, M.-P. Nieh and J. Katsaras; US Provisional Patent No. 60/862,321 (October 20, 2006); US Patent No. 11/741,323 (April 27, 2007); World International Property Organization No. WO 2008/051818 A2 (May 2, 2008)  Provisional Patent 12078-1 – NRC. "Single Domain Antibody-Targeted Carrier for Contrast Agents and Drug Delivery Agents". A. Abulrob, D. Stanimirovic, U. Iqbal, M.-P. Nieh and J. Katsaras International PCT Application PCT/CA2009/001729 entitled "Antibody-Targeted Carrier for Contrast Agents" has entered the National Phase in Canada on May 18, 2011.  International PCT Application PCT/CA2009/001729 entitled "Antibody-Targeted Carrier for Contrast Agents" has entered the National Phase in the United States on May 20, 2011 and has been allotted United States. Patent Application No. 13/130,339.  International PCT Application PCT/CA2009/001729 entitled "Antibody-Targeted Carrier for Contrast Agents" entered the National Phase in Europe on June 22, 2011.  Memorandum of Understanding – NRC/MDS-Nordion. "Targeted Molecular Imaging". November 7, 2008  Agreement for R&D Collaboration – NRC/McGill. "Development and Evaluation of Dopamine Receptor – Targeting Radiopharmaceutical Formulations and Improved Blood-Brain Barrier Permeability". 2008 – 2009  Memorandum of Understanding – UT-Battelle, LLC/NRC. "Collaborative Opportunities Involving Neutron Scattering". June, 2012