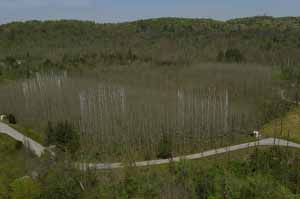 May 27, 2015 — Predicting how forests will respond to increased levels of atmospheric carbon dioxide involves understanding the interplay among carbon dioxide, nutrients, water, plant and soil processes. This multitude of variables challenges scientists who are trying to gauge how future ecosystems will react in a changing climate.  

Oak Ridge National Laboratory ecologist Rich Norby has spent his career pondering these fundamental questions, including more than a decade studying the effects of elevated carbon dioxide in a Tennessee sweetgum forest as part of the Free-Air CO2 Enrichment (FACE) project at ORNL.

"When you work with forests, the questions are many decades long," Norby said.  

After the ORNL FACE experiment measurements were completed in 2009, Norby and colleagues integrated the mounds of observational data into computer models.

 "We can't do experiments directly to address all the questions related to global forest response over many decades," he said. "So we have to make use of models to get at these questions. An important reason for intensive experiments is to inform and improve our models."

Recently, Norby and an international team of researchers from Macquarie University, the University of Western Sydney and the Max Planck Institute for Biogeochemistry set out to assess how the results from the ORNL FACE experiment and a second similar long-term FACE experiment at Duke University compared to eleven vegetation models that simulate various ecological processes. The team summarized its work in a study published in Nature Climate Change.

Instead of only benchmarking whether or not an individual model matched the experimental data, the researchers developed an "assumption-centered" approach to evaluate why certain models performed better than others.

"We wanted to understand why the models are doing what they're doing, rather than just comparing the models to the data in a more superficial fashion," said ORNL's Anthony Walker. "We're evaluating models based on how well they represent underlying biological mechanisms."

Comparing the models to the FACE data sets allowed the team to identify missing or wrong assumptions in the models and pinpoint processes where additional understanding is needed.

"By understanding the processes that are responsible for what's going on in the models, we're connecting them with the experiments in a common language," Walker said.  

The team's study is helping to evaluate our understanding and model representation of forest ecosystem response to future climates.  It will also help to guide new FACE experiments that are underway or planned in different biomes and climates, such as the Amazon, Australia, England and Sweden.

"There's many new questions and value in comparing responses across these different experiments," Norby said. "We're setting up a model framework to do that, where all participants are importing data in common format and making sure we measure things in the same way."

Norby adds that this type of collaborative approach is increasingly important in climate change science, where field researchers and modeling experts are working together more closely than ever before.

"It is a whole philosophy – tightly integrating experiments and modeling," Norby said. "The entire science community is getting together to do this, which is exciting."

The team also includes collaborators from Boston University, Germany Goethe University, University of Illinois, University of Oklahoma, Colorado State University, Imperial College, Natural Resources Canada, CSIRO Ocean and Atmosphere Flagship, Princeton University, Duke University, and the Swedish University of Agricultural Sciences. The study is published in Nature Climate Change as "Using ecosystem experiments to improve vegetation models."

The ORNL research was supported by the Department of Energy's Office of Science (Biological and Environmental Research). The effort is part of the Climate Change Science Institute at ORNL.

UT-Battelle manages ORNL for the DOE's Office of Science. The Office of Science is the single largest supporter of basic research in the physical sciences in the United States, and is working to address some of the most pressing challenges of our time. For more information, please visit http://energy.gov/science/.