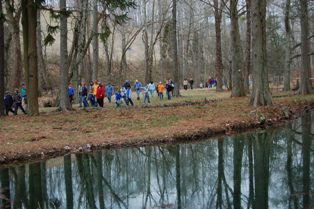 December 22, 2009 — Led by two legacy gifts and a record United Way campaign, UT-Battelle and ORNL staff contributed more than $2 million to a variety of local projects and initiatives in 2009.
UT-Battelle community gifts in the past year included $200,000 for the University of Tennessee arboretum, $175,000 for the Oak Ridge Playhouse, and more than $1 million in staff and corporate contributions to the 2009 United Way Campaign.
"UT-Battelle is guided by the belief that we cannot be one of the world's premier science laboratories without a strong partnership with the local community," said Oak Ridge National Laboratory Director Thom Mason. "Because we want our gifts to have a lasting impact, they are fewer in number and larger in size."
UT-Battelle's contributions to education are part of more than $5 million donated since 2000 for education outreach initiatives, including equipment for some 50 area high school science laboratories.
The Oak Ridge Playhouse gift is helping leverage $2 million needed to renovate one of the region's oldest theaters. The playhouse is the latest in a series of UT-Battelle's legacy investments in the Oak Ridge region. The investments include the renovation of Oak Ridge High School, a facility for children's services in Clinton, and new launch docks and a finish-line tower for the Oak Ridge Rowing Association. Each of the projects is designed to leverage additional funding and services for the community.
Among UT-Battelle's largest community gifts in 2009 was a $200,000 contribution for a new facility at the University of Tennessee Arboretum, a 250-acre nature sanctuary in Oak Ridge. The new facility will provide space for educational programming, including a summer science camp for youth in the Oak Ridge area.
Since assuming management of ORNL for the Department of Energy in 2000, UT-Battelle has donated more than $6 million to the United Way and $10 million to area organizations in support of science and math education, economic development, and a variety of civic projects.
UT-Battelle manages Oak Ridge National Laboratory for the Department of Energy.