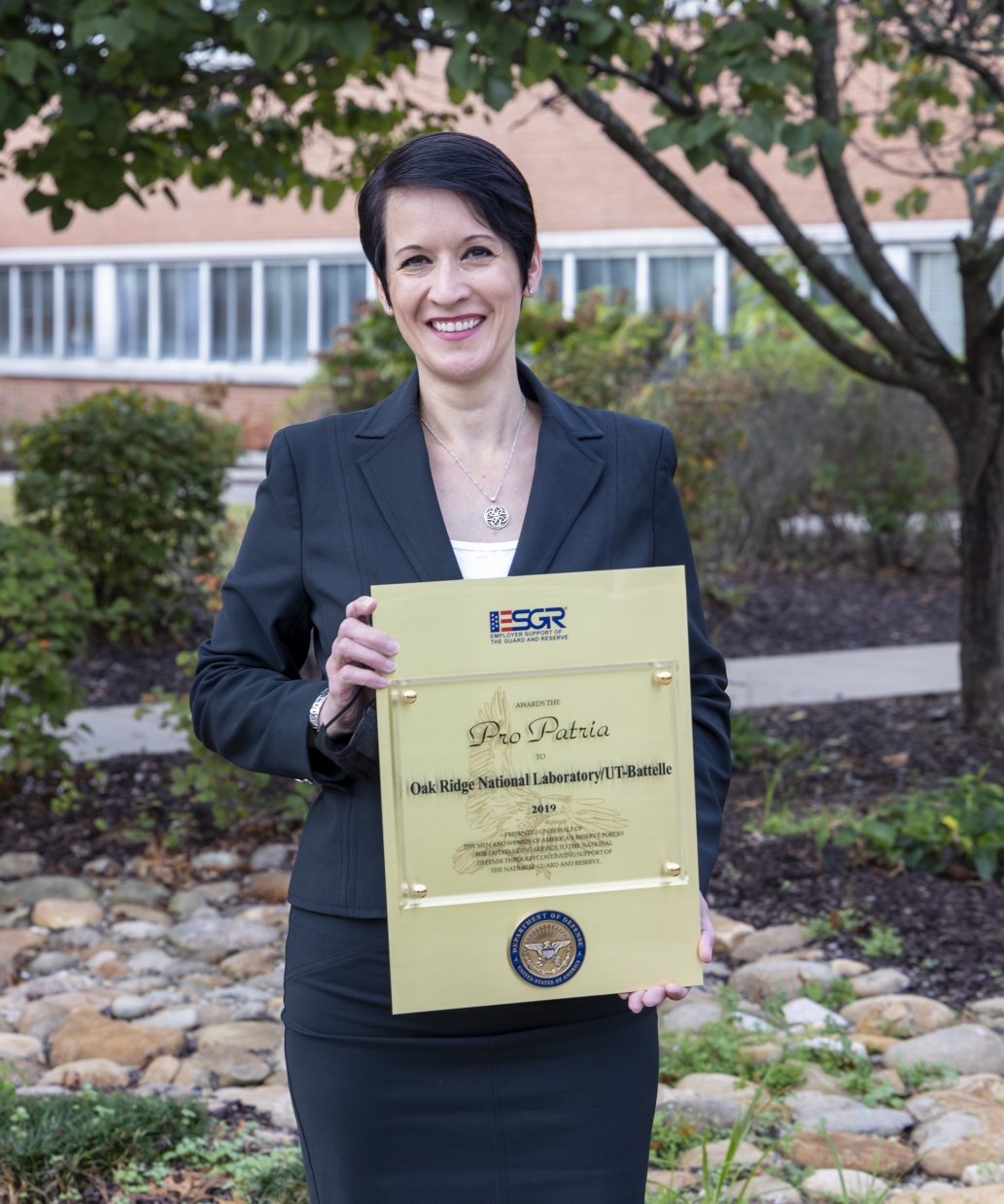 The Department of Energy's Oak Ridge National Laboratory has received a Pro Patria award, the highest recognition granted by the Tennessee Employer Support of the Guard and Reserve committee, in recognition of ORNL's outstanding support of employees who are reserve members of the U.S. Armed Forces, known collectively as the Reserve Component.
"We highly value our employees who are reservists and appreciate the skills and expertise that they bring to their work at the lab," said Thomas Zacharia, ORNL director. "It is important to our organization that we understand the challenges they face, provide support and accommodate their needs as best we can."
Approximately 11% of ORNL's staff are military reservists and veterans. ORNL was the only winner in the large business category; other awards were given in the small business and public sector employer categories.
The Employer Support of the Guard and Reserve is a Department of Defense program established in 1972 to promote cooperation and understanding between members of the Reserve Component and their civilian employers. Known as ESGR, this network of volunteer committees across the nation works to promote employer support for military service in the Guard and Reserve and to assist in the resolution of conflicts arising from an employee's military commitment.
"A service member, especially if enlisted, may experience a significant reduction in their income during a deployment," said Jim Mungenast, chair of the Tennessee Employer Support of the Guard and Reserve committee. "Employers like ORNL, who voluntarily make up the difference in pay, help these service members — and their families at home — to continue to serve in our Armed Forces. This is important to our national defense, as nearly 40 percent of our military personnel serve in the Guard and Reserve."
Mungenast said the nomination packet prepared by Maj. Maria McClelland, Cyber Operations and Engineering group leader in the Information Technology Services Division at ORNL, made clear that beyond ORNL's strong policies, McClelland and her family were personally supported by individual staff members above and beyond what he typically sees.
"These exceptional policies and Maj. McClelland's descriptions of how she was supported during her deployments really made ORNL stand out from the rest of the nominees," Mungenast said.
McClelland served in the military for more than 20 years, most recently as Tennessee Army National Guard Cyber Protection Team lead.
"ORNL supported my military service in a myriad of ways before, during and after deployment," McClelland said. "They provided flexible work scheduling, paid time off for military training and differential pay while on deployment, which alleviated financial burdens and stress."
Before and after her deployment, McClelland said, "The HR staff were incredibly knowledgeable and quick to respond to any questions or issues. Throughout the deployment, senior leadership and HR staff remained in contact with me and my family, providing regular updates on projects at the lab as well as conducting routine wellness checks and providing morale support."
She said she has witnessed this same level of attention to several other ORNL employees who were deployed or mobilized. McClelland credits ORNL's strong veteran community, which also helps employees transition back to civilian life upon their return.
Staff Sgt. Greg Warren, team lead for instrument support at the High Flux Isotope Reactor, also nominated ORNL for recognition. Warren serves in the Army National Guard.
ORNL demonstrates its support for employees who are Guard and Reserve members through both its policies and its culture, including:
Providing reservists 80 hours of paid time off for regular military training and 173 hours for emergency service, in such cases as providing hurricane and wildfire relief to communities.

Providing pay differential to those whose military pay is less than their ORNL salary.

Hosting and supporting an employee resource group that is focused on connecting veterans and reservists, hosting appreciation events and fostering an understanding among lab staff of the complexities of military service.

Providing support for and accommodation of staff who are deployed.
"Our division actively recruits veterans and serving reservists," said Kris Torgerson, ORNL's chief information officer and ITSD director. "I've found that those employees recognize a synergy between the ORNL mission and their military training and experiences.
"We do everything possible to assist them in having the best dual-track career possible, including unparalleled support for them and their families during deployment."
UT-Battelle manages ORNL for DOE's Office of Science. The Office of Science is the single largest supporter of basic research in the physical sciences in the United States and is working to address some of the most pressing challenges of our time. For more information, please visit energy.gov/science.