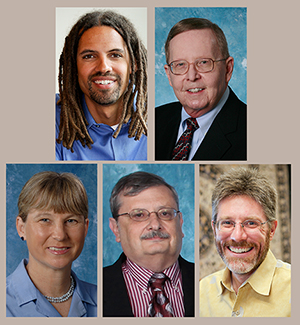 May 7, 2014 — Scientists at the Climate Change Science Institute (CCSI) at the Department of Energy's Oak Ridge National Laboratory (ORNL), including Thomas Wilbanks, Steve Fernandez, Peter Thornton, Virginia Dale, and Benjamin Preston, were among the 240 authors who contributed to the Third National Climate Assessment (NCA) report. The report, released on May 6, is an important resource for communicating the science and impacts of climate change in the United States and helps policy makers form decisions on climate change-related issues by providing information on past, present, and future climate trends based on technical reports.
"The Global Change Research Act of 1990 requires an NCA assessment report at least every four years. The report is produced by the 13 federal agencies that make up the U.S. Global Change Research Program and is written by experts drawn from local, state, and federal governments, academia, and the private and nonprofit sectors," said Jack Fellows, CCSI director.
The 2014 report found that not only is global climate changing but also that the source of change in the past 50 years has been predominantly the burning of fossil fuels. Climate change affects human health and community activities in many ways, such as increases in air pollution, insect-borne disease, food and water scarcity, and the immediate risks associated with extreme weather events like wildfires and tropical storms. Infrastructure is increasingly damaged across the United States because of climate change-induced sea level rise, storm surges, heavy downpours, and extreme heat. Anthropogenic, or manmade, climate change is projected to accelerate if greenhouse gasses continue to be emitted unabated.
Wilbanks, an ORNL corporate fellow, was heavily involved in the creation of the NCA report. He worked on researching the human impacts of climate change, how change will affect infrastructure, and how humans can adapt. He led the Climate Change and Energy Supply and Use technical input report, co-led the Climate Change and Infrastructure, Urban Systems, and Vulnerabilities technical input report, was lead author of chapters four and 11of the NCA report (Energy Supply and Use and Urban Systems, Infrastructure, and Vulnerability, respectively), and advised the authors of chapter 28 Adaptation.
Senior ORNL researcher Fernandez co-led the preparation and submission of the Climate Change and Infrastructure, Urban Systems, and Vulnerabilities technical input report with Wilbanks. The report found that extreme weather events associated with climate change will increase disruptions of infrastructure services in some locations.
Thornton, CCSI Ecosystem and Carbon Cycle research theme lead, was a lead author for chapter 15, Interactions of Climate Change and Biogeochemical Cycles, which found that human activities have increased carbon dioxide by more than 30 percent over background levels and more than doubled the amount of nitrogen available to ecosystems.
Also an ORNL corporate fellow, Dale co-authored chapter seven, Forests, which found that climate change is increasing the vulnerability of the nation's woodlands to wildfires, insect infestation, drought, and disease. Forests currently absorb about 13 percent of carbon dioxide produced by the United States, and bioenergy could emerge as a new market for wood to aid in the restoration of forests killed by drought, insects, and fire.
Preston, CCSI deputy director, contributed to the fifth chapter of the Coastal Impacts, Vulnerabilities, and Adaptation technical input report. The chapter found that changes in the environment associated with human development compromise the ability of the coasts to provide a multitude of benefits including food, clean water, jobs, recreation, and protection from storms.
CCSI's contributors to the NCA report are supported by the Office of Biological and Environmental Research in DOE's Office of Science and DOE's Office of Energy Efficiency and Renewable Energy.
UT-Battelle manages ORNL for DOE's Office of Science. The Office of Science is the single largest supporter of basic research in the physical sciences in the United States, and is working to address some of the most pressing challenges of our time. For more information, please visit http://science.energy.gov/. —Justin Kaffka