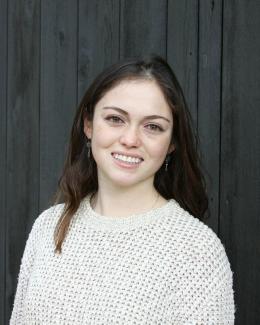 Contact Information
Michelle V Lehman
Animation Producer
Bio
What is 3D animation?
WALL-E, Coco, and the critically acclaimed Spider-Man: Into the Spider-Verse are all examples of 3D Computer animation. Traditionally, animation has been used for creative storytelling; however, there is a growing interest for using it to help scientists tell their stories too. 
3D animation involves modeling objects in a computer-generated 3D space. These models are moved around to set locations in this 3D space at specific moments in time. The flexibility of this medium offers a powerful set of tools that I use to bring science to life. Take a look at my website for a few examples of my work.
Behind the Scenes
Let's talk science! My degree in neuroscience provides me with the groundwork for bridging conversations between researchers and artists. Not only does this reduce confusion on both sides, it allows me to identify opportunities for more intentional approaches to developing visuals.

Furthermore, my understanding of how memory works in humans allows me to make artistic decisions with the intent of promoting retention of information. For example, I use color, light and movement to strategically guide attention.

Science is beautiful, so why oversimplify it? I believe in allowing audiences the chance to engage in high-quality information and visuals.

The opportunities in this medium seem endless. Whether it's inviting a broader audience into a scientist's world or using animation to address the language barriers in health settings, I am thrilled to have found a niche where I can make an impact.
Tasks I Perform as a Solo Animator
Initial concept meeting with client
Research + follow up questions
Script writing assitance, storyboard, moodboard, animatic
Drawovers, revisions & approval 
Rough, low-poly animation
Script recording
Modeling, rigging and materials
Animation
Compositing
Rendering
Sound Design + Video Production