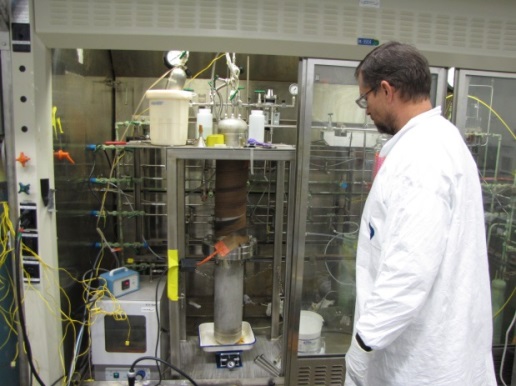 The Process Engineering Research (PER) Group performs energy-related research and development activities in a wide range of subject areas from nuclear energy to biofuels to hydrogen. Group personnel are also involved in homeland security, environmental management, and national defense projects. PER's customers include the Department of Energy, the Department of Homeland Security, the National Nuclear Security Administration, and other government and private agencies and organizations.
The missions of the PER Group include
utilization of the special capabilities of ORNL to expand and advance the nuclear energy fuel cycle
development of advanced technologies for nuclear fuel production and treatment of radioactive waste
fuel cycle studies in support of defense nuclear nonproliferation
prevention and mitigation of threats to homeland security
development and demonstration of improved chemical processes to improve energy efficiency and explore alternative energy technologies, with emphasis on separations technologies
A key characteristic of the group is the unique combination of engineering design and analysis capabilities, laboratory-scale chemical and radiochemical processing research, laboratory-scale separations chemistry, and design and operation of pilot-scale process demonstrations.
While the experience base of the group is in radiochemical science and engineering, PER's abilities extend across the nuclear fuel cycle from fuel enrichment and pre-enrichment uranium conversion chemistry and processes to fuel fabrication, spent fuel processing, waste form development, and waste treatment technology.
Within these areas, special expertise exists in the development of advanced chemical separations, thermodynamic prediction of chemical speciation, chemical kinetics evaluations, chemical process computer simulation, nuclear forensics, and process reliability and availability analysis.
High resolution chemical speciation determination is an area of increasing interest and expertise. In addition to nuclear chemistry and engineering, the group has some experience in biofuel processing, thermochemical hydrogen generation, and chemical hydrogen storage. Chemical processing experience in separations and other chemical unit operations also exist at scales ranging from laboratory scale to pilot scale.