Ecological Society of America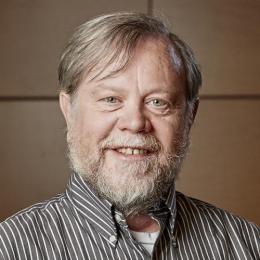 Richard Norby
Richard Norby, a physiological ecologist at the Department of Energy's Oak Ridge National Laboratory, has been elected fellow of Ecological Society of America.
Norby, a researcher in ORNL's in the Environmental Sciences Division and Climate Change Science Institute, was inducted to the society's highest membership grade in recognition of achievements in advancing the science of ecology. He is cited by the professional society of ecologists "for fundamental research on the response of terrestrial organisms and ecosystems to elevated carbon dioxide atmospheres and environmental changes."
Norby's research explores the responses of trees and forests to elevated atmospheric carbon dioxide, with an emphasis on below-ground ecosystem responses. He was the principal investigator of the Oak Ridge Free-Air CO2 Enrichment (FACE) Experiment, and he currently serves as task leader for nutrient biogeochemisty in the multi-lab NGEE-Tropics project and for sphagnum moss research on the Spruce and Peatland Responses Under Climatic and Environmental Change(SPRUCE) project.
Norby holds a bachelors in chemistry from Carleton College and a doctorate in forestry and botany from the University of Wisconsin. In addition to his role in the Ecological Society of America, Norby is a member of the Association of Tropical Biology and Conservation and the American Geophysical Union, and in 1995 was elected fellow of the American Association for the Advancement of Science. He has been an ORNL Corporate Fellow since 2007.
UT-Battelle manages ORNL for the Department of Energy's Office of Science. The Office of Science is the single largest supporter of basic research in the physical sciences in the United States, and is working to address some of the most pressing challenges of our time. For more information, please visit http://science.energy.gov/.