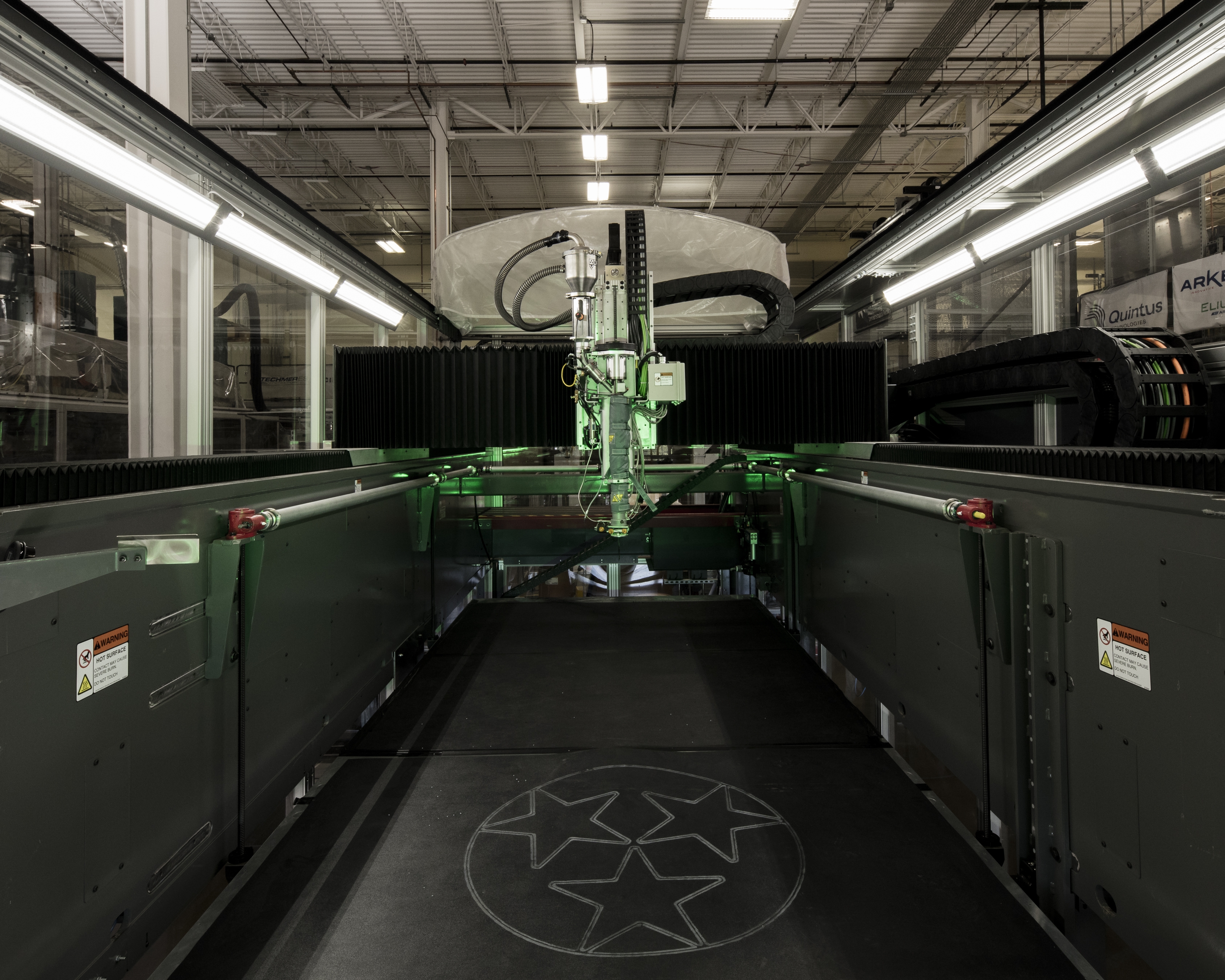 A second large-volume 3D printer recently installed at the Department of Energy's (DOE) Manufacturing Demonstration Facility (MDF) will be modified to print two different materials on one object, significantly advancing the materials research being performed by Oak Ridge National Laboratory (ORNL) scientists.
The next-generation printer provided by Cincinnati Incorporated under a cooperative research and development agreement extends the capabilities of the MDF's current Big Area Additive Manufacturing (BAAM) system, which has printed automobiles, a house, a mold of a wind turbine blade, and a trim tool being used to help manufacture the wing for a new passenger jet. The printing of the trim tool for The Boeing Company, in fact, resulted in ORNL being awarded the title of the largest solid 3D printed object by Guinness World Records.
The new system will have the capability of printing polymer material in sizes up to 13 feet long, 6.5 feet wide, and 8 feet tall, enabling taller structures than the existing BAAM printer's capacity of 20 feet x 8 feet x 6 feet, said Vlastimil Kunc, leader of ORNL's polymer materials development team.
ORNL will fit the printer with two hoppers to accommodate different materials, two dryers, and two lines to the machine's extruder. The technology enables a broader area of research, Kunc said, including the ability to tailor materials depending on the position within a part.
"Typically, you might want to have a different set of properties on the surface of a part versus internally. With our current system, it is very difficult to make that transition. You might, for instance, want to switch from carbon fiber-filled thermoplastic to glass fiber-filled thermoplastic to anything in between," Kunc explained. 
The printer has other features that Kunc's team is eager to utilize, including new built-in electronics and controls and advanced safety systems. There is no crossbeam at the top of the new printer, which will accommodate taller objects and make removal of objects after printing easier—they will simply slide out, he added.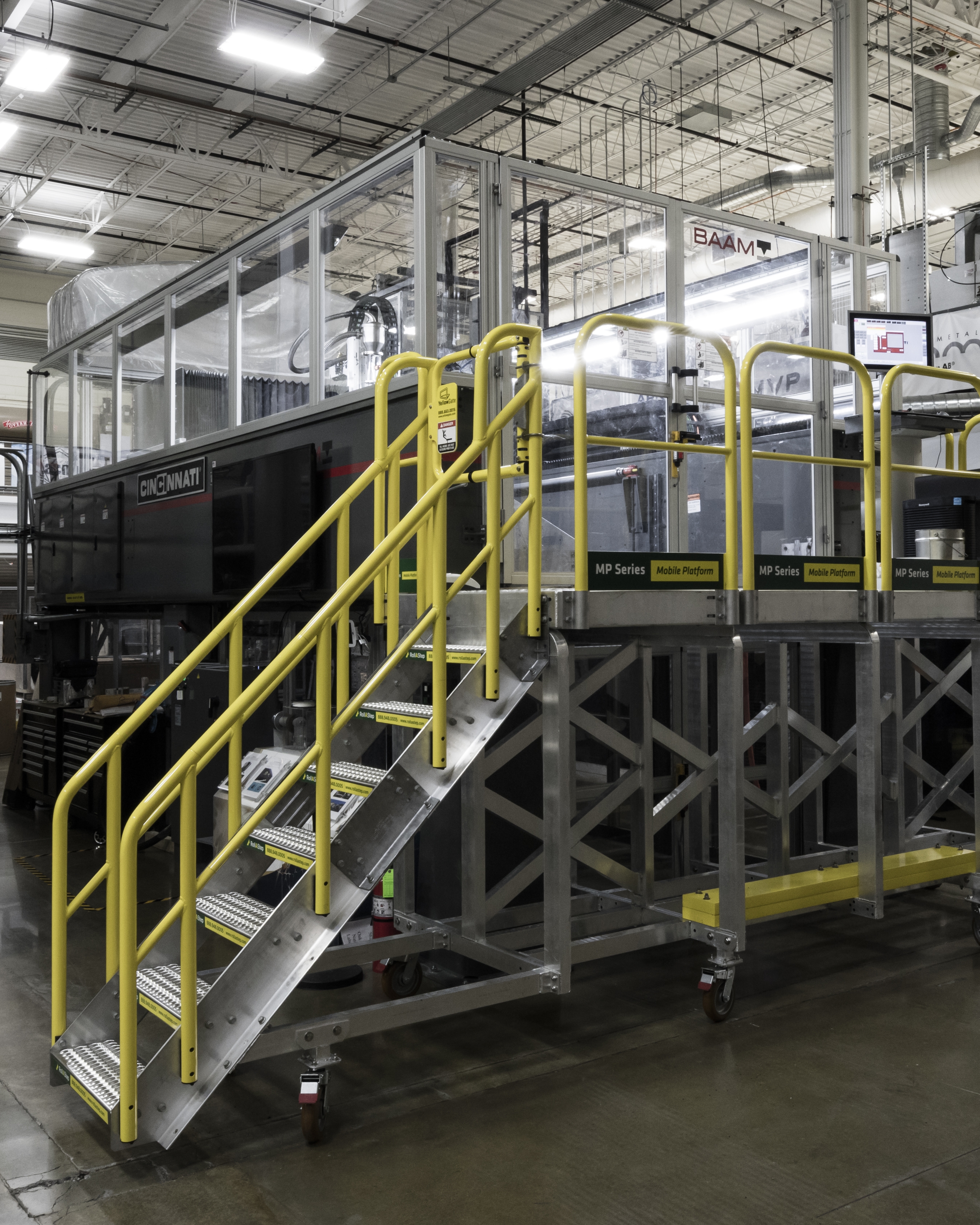 The MDF began its focus on large-scale additive manufacturing with the installation of the first BAAM printer jointly developed with Cincinnati Incorporated in 2014. Up until now, printing was accomplished using a single type of polymer, typically the workhorse material carbon fiber acrylonitrile butadiene styrene (ABS), or by using high-temperature carbon fiber composites. In the past year, research at the MDF has focused on high-temperature tooling for aerospace applications, developing 3D printed autoclave tools, for instance, that can withstand an environment of 350° F and 100 psi pressures. This year, the researchers are focusing more on early-stage technology advancements for the automotive sector.
The advanced system will push materials and deposition technology forward as the scientists make changes during the printing process—trying new inputs and extrusion practices, Kunc added. The new printer will also enable more rapid development of bio-derived materials, including bamboo, poplar, flax, and cellulosic fibers in conjunction with experts at DOE's Bioenergy Technology Office and the BioEnergy Science Center.
 "Once we have the multi-materials capability in place, it's a completely new game," Kunc said. The scientists plan to begin conducting preliminary work on the new printer this summer.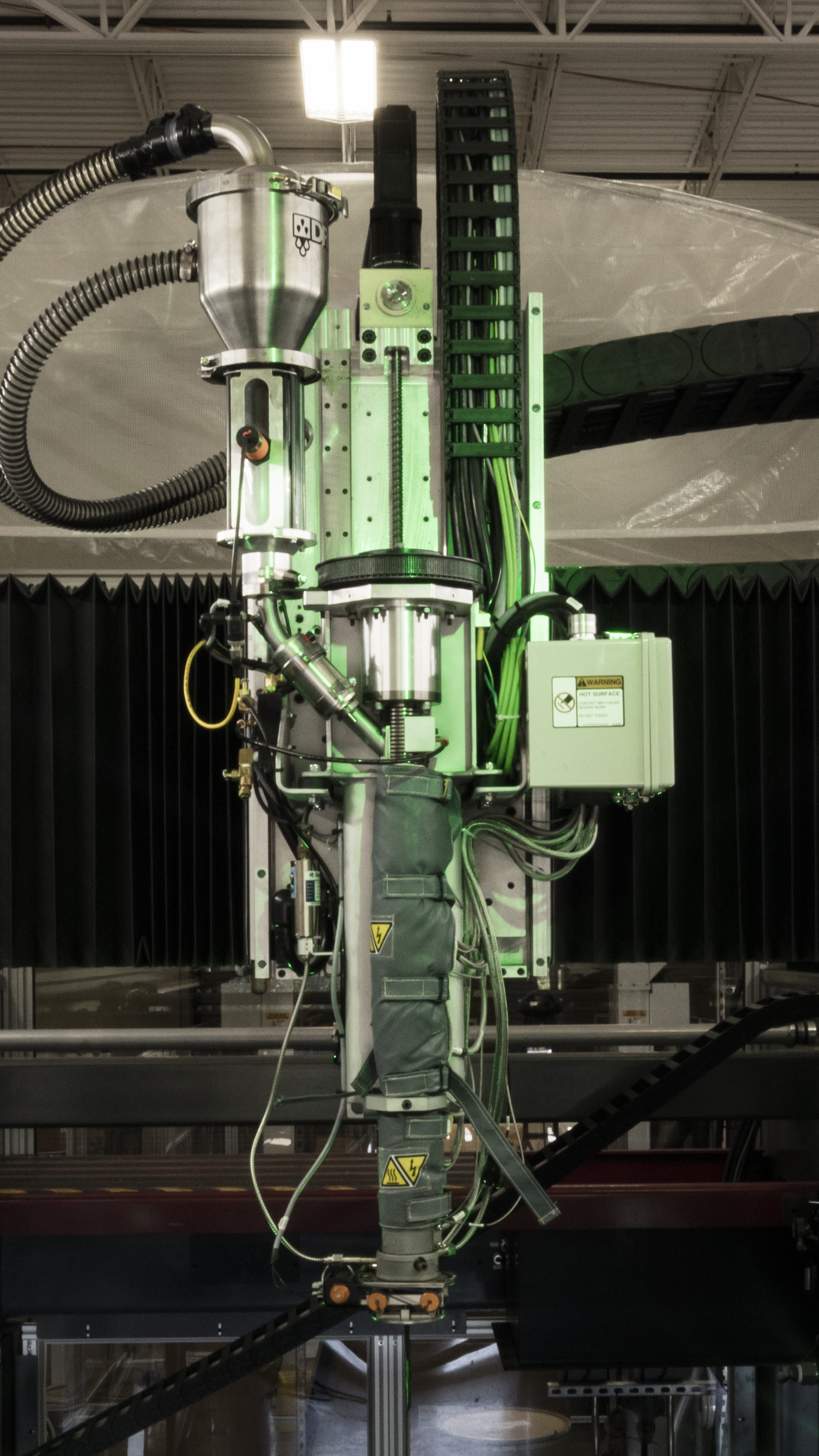 Kunc specifically acknowledged the strong engagement between the MDF and Cincinnati Incorporated. "Their commitment to their technology is impressive," he said.
"The flexibility, versatility, and adaptability of additive manufacturing makes it possible for design engineers to push the envelope of part design," said Carey Chen, CEO of Cincinnati Incorporated. "Large-part additive advances this new wave of manufacturing and it's great to work with partners who are as enthusiastic about it as we are."
The MDF, supported by DOE's Advanced Manufacturing Office (AMO), assists early stage applied research and development of new materials, information, and processes that improve American manufacturing's energy efficiency, as well as platform technologies for manufacturing clean energy products.